Opening new academic doors to Europe
LAU joins WELCOME and MEDASTAR — two exchange programs designed to promote academic mobility from Lebanon and Egypt to the European Union.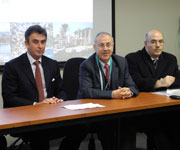 Spanish Ambassador to Lebanon Juan Carlos Cafu (left), Dr. Fouad Hashwa, and Elie Samia at the kickoff meeting for MEDASTAR at LAU Byblos.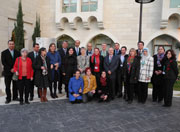 Representatives from different member universities of the MEDASTAR project, at LAU Byblos.
Students considering studying or conducting research abroad may find this a propitious moment. Applications have recently opened for both the WELCOME and MEDASTAR grants, two projects funded by the European Union and aimed at engendering academic mobility from Lebanon and Egypt to the EU.
Last October, LAU joined the WELCOME (Widening Egyptian and Lebanese Cooperation and Mobility with Europe) consortium, which comprises 19 universities from the EU, Lebanon and Egypt, and is coordinated by Politecnico di Torino, Italy.
The grant is worth €4 million (roughly $6.7 million), $600,000 of which was awarded to LAU, spanning a four year timeframe - from October 2011 to October 2015.
Six universities from Egypt, five from Lebanon, and up to 10 from the EU will benefit from the exchange program. Accepted candidates will spend between 6-36 months in a European partner university studying, training, teaching and/or researching. The scholarships are open to undergraduate, graduate, and doctoral students as well as post-doctoral faculty and staff. They will cover various expenses, including travel costs, living allowances, tuition/registration fees and insurance.
"The study abroad office at LAU works extensively to provide international exchange opportunities to our students with the main purpose of widening their horizons and expanding their perspectives on many academic, social, and humanitarian aspects," says Elie Samia, executive director of the Outreach and Civic Engagement unit. "Also, we strive to promote LAU as an academic institution of high standards that thrives on international exchange."
The MEDASTAR (Mediterranean Area for Science Technology And Research) project is similar to WELCOME in its objectives, details, and budget, according to Dr. Fouad Hashwa, professor of microbiology and biotechnology at the Byblos campus and LAU's liaison to the Erasmus Mundus headquarters in Brussels, Belgium.
Run by the University of Oviedo in Spain, MEDASTAR is a consortium of 18 universities, again from Lebanon, Egypt and Europe.
"LAU's share from each grant will be about $400,000, solely to facilitate and cover the two-way exchange expenses for our students and staff," says Hashwa. "Both grants will be effective in early 2012, thus doubling the number of scholarships for LAU's students at the undergraduate, graduate and doctoral levels."
A total of 400 exchanges will be made possible by the grants, according to Hashwa, who represented LAU at WELCOME's inauguration in Turin, Italy in December and organized MEDASTAR's kickoff meeting at LAU Byblos on January 19-20. Along with a host of LAU officials, the Spanish Ambassador to Lebanon Juan Carlos Gafo, and Erasmus Mundus representative Anila Troshani attended the meeting, which was opened by Provost Dr. Abdallah Sfeir.
Participation in the programs will not be limited to Lebanese and Egyptian students. Students from European institutions are expected to constitute around 30 percent of the total exchange, says Hashwa.
Other Lebanese universities participating in the two projects include the American University of Beirut, Notre Dame University, Lebanese University and Saint Joseph University. Students in most majors are eligible.
"As the executive director of OCE, I believe that offering opportunities for LAU students to enrich their intellectual and cultural experiences through Erasmus Mundus is an integral part of LAU's mission statement — totally committed to academic excellence, civic engagement and leadership," says Samia.