Over 90 NGOs participate in second annual fair
LAU Beirut hosts over 90 NGOs for second annual fair, aiming to involve students in community activism.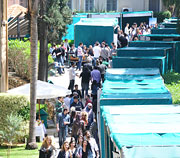 NGO tents spread throughout the Beirut campus.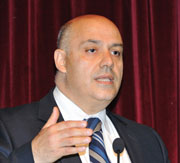 Elie Samia, executive director of the OCE unit at LAU, speaks during the opening ceremony.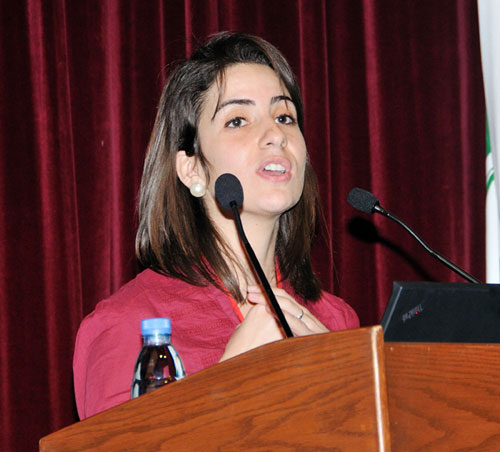 Sarah Bou Ajram, OCE's coordinator of leadership and civic engagement, at the opening ceremony.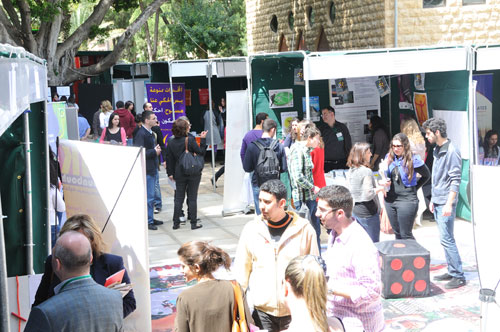 Tents in front of the Safadi Fine Arts Building.
Click on any photo above to view all four images.
Ninety-one NGOs set up shop at LAU Beirut April 13 for the second annual university fair aimed at encouraging students to engage in their communities.
Building on the success of last year's debut NGO fair at LAU Byblos, which recorded the participation of about 70 groups, the recently established Outreach and Civic Engagement unit at LAU took charge of the effort this year, bringing in more organizations and adding new activities.
"What a wonderful opportunity to have the university engaging with the community to provide for our students — the youth of Lebanon — opportunities to become real citizens of a country that needs a lot of help," said Dr. Elise Salem, LAU vice president for Student Development and Enrollment Management.
Representatives of NGOs staffed booths across campus, where they welcomed visitors, promoted their causes, and drew in students to join their efforts.
The participating NGOs included Caritas Lebanon Migrant Center, which helps defend the rights of migrants in Lebanon; KAFA (Enough) Violence and Exploitation, a group established to end abuse and discrimination against women; and Beirut for the Ethical Treatment of Animals, an animal-rights group.
Inside a large tent on campus, some 20 groups screened short films providing either an overview of their organization's goals or information about the cause they promote.
During the event's opening ceremony, Sarah Bou Ajram, coordinator of leadership and civic engagement at OCE, introduced a new portal for NGOs to help engage students. NGOs can register at http://volunteer.lau.edu.lb, create profiles and announce volunteering opportunities.
"Outreach and Civic Engagement is established for you," Bou Ajram told the audience. "We want to partner with you, work with you, help in your volunteer efforts, fundraise with you, provide you with a venue, and work with you on any civic-engagement initiatives you want."
For more information, contact Sarah Bou Ajram at sarah.bouajram@lau.edu.lb.