Overcoming prejudice: from fear to knowledge
LAU communication arts alumna Hanadi Shehabeddine promotes interfaith dialogue in the U.S.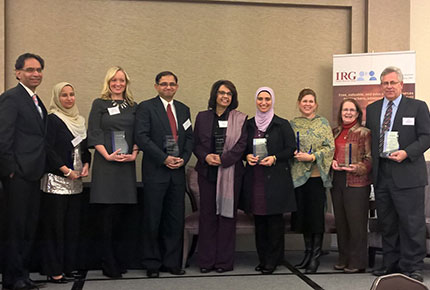 The past year has seen a worrying escalation in the number of attacks perpetrated against Muslims in the U.S. Three Muslim students were shot dead in Chapel Hill, N.C., a woman was disfigured with a beer glass for not speaking English while others have been attacked for wearing the veil.
Following these and other events, Hanadi Shehabeddine, an LAU communications alumna, felt the compelling urge to speak up. "There isn't a faith that terrorism has not filtered through," she says, "I felt the need to clarify the questions and thoughts that people have on Islam."
Shehabeddine left Lebanon for Minnesota when she met her husband, with whom she has three kids. Her first step as a bridge-builder between the Muslim and the non-Muslim communities was to invite parents from her kids' school to her home, where she treated them to a traditional Lebanese fare and encouraged them to ask any questions on Islam.
"Americans have a sense of justice in them, they want to stand up for the rights of others. I capitalized on that and I began speaking up," says Shehabeddine. Upon arrival in the U.S., she was fascinated by the freedom to practice one's religion and the fact that anyone – religious or not, veiled or non-veiled – stood up for the rights of the other.
"In Lebanon, I was asked to take off my veil a couple of times, while this never happened in the U.S. Here it is your right to wear one and demand a place to pray," she says. In her view, American society is on the whole tolerant, and it is in fact the media that is largely responsible for stirring tensions between the communities. As its discourse tends to blindly associate Islam with terrorism, it gives rise to a sense of apprehension and distrust within the Muslim community that ultimately stems from propaganda rather than real-life episodes of discrimination.
This mutual mistrust prompted her to look for ways to promote dialogue and facilitate interaction. "We do not have channels to voice our opinions, so our only option is to organize grassroots initiatives," says Shehabeddine, who volunteers as a speaker for the educational non-profit Islamic Resource Group.
Through them, she takes part in encounters where the public is invited to ask her about her faith. "At times they are afraid because they don't want to offend me, but once they get going they are able to pose delicate questions, such as the Islamic view on the veil, the Sharia law, homosexuality and so on."
Two years after her first speech, her message is beginning to reach a bigger audience. A prominent news outlet in Minnesota The Star Tribune featured an article about Shehabeddine's outreach efforts last January and the Twin Public TV Network broadcasted an interview with her on one of their local programs.
"My message is that clashes between communities are never about religion. If you look at the Lebanese civil war, it was never about religion, it was about politics," she says. "Maybe we can learn from this. I invite Americans to reach out to the Muslim community, because only by knowing each other can we overcome prejudice and mutual distrust."