Papou Lahoud talks fashion and heritage
From Tyrian purple, through the tantour and the labbade, to modern-day trends, the designer traces the history of Lebanese fashion.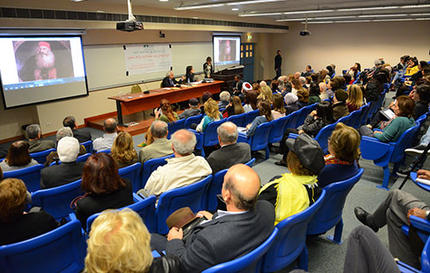 More than a hundred guests from within and outside the LAU community gathered to hear renowned costume designer Papou Lahoud and Yasmine Taan, chair of the department of design, talk about traditional costumes in Lebanon. The two designers were brought together by LAU's Center for Lebanese Heritage which, under the direction of poet Henri Zoghaib, hosts monthly panel discussions at the Beirut campus on a variety of topics on Lebanon and its diverse and colorful heritage.
In her presentation, Taan boasted about the LAU Elie Saab fashion degree and the various opportunities it affords its students. "We have invited a great number of experts and designers to share their knowledge and advice with our students," said Taan, announcing that Kenzo merchandising designer Yoanna Finaud was slated to be the department's next guest speaker.
Lahoud, who opted to focus on fashion after obtaining a degree in interior design, took the audience on a historical journey of Lebanese fashion that began with the Phoenician discovery of Tyrian purple, a dye made from the secretions of sea snails. "Traders of textiles and jewels shared our discoveries and culture with people in other lands … and we too absorbed the cultures of many who passed through our lands."
Little is known about Lebanese fashion between the 7th and the 17th centuries as sarcophagi and epigraphs at the National Museum in Beirut, museums in Egypt and elsewhere predate the 7th century, and any depiction of the region's people and clothing only came with the arrival of the Orientalists in the 17th century.
"Through these drawings we see the fashions of those times, including the women's conical tantour hats, with their bronze, silver and gold embellishments, and the men's labbade felt caps." Lahoud's talk was accompanied by various images and photographs, including the attire of princesses, village girls and maids. Additional slides highlighted the different fashions depending on occasion, religion and region.
Lahoud went on to showcase her own range, including some of the many vibrant stage costumes for which she is best known, created for shows produced by her brother Romeo Lahoud and the Rahbani brothers, among others. Her designs have also been worn by Miss Lebanon and staff at General Security, as well as Middle East Airlines and Royal Jordanian air hostesses, which won her the IATA award for best uniform.
"While preparing to give this talk, I had to go back through my own history and not just that of Lebanese fashion. It was a very positive experience for me," said Lahoud, noting that it was the first time she had given a public presentation. "I don't usually like to talk, I prefer to draw."
Many of Lahoud's designs, including her eveningwear and wedding dress lines, are showcased on her website.
The CLH will next month, on 4 April, present a talk about the heritage of the Lebanese kitchen. All are welcome to attend.