Partners in development
More than 75 organizations set up booths at LAU's fourth NGO fair.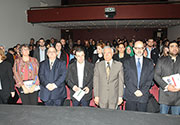 More than 75 organizations set up booths at LAU's fourth NGO fair.
Click on photo for larger version.
Under the patronage of the Minister of Social Affairs Wael Abou Faour, the Outreach and Civic Engagement (OCE) unit at LAU inaugurated its fourth annual NGO fair on the Beirut campus on April 22. The event gave students the opportunity to familiarize themselves with a stellar pool of NGOs, introducing them to the importance of community service and volunteerism.
With "Partners in Development" as a theme, the fair drew a total of 78 NGOs that set up informational booths on campus, briefing the students on their objectives and projects, and calling for their much needed and anticipated participation in their activities.
In his opening address, OCE Executive Director Elie Samia expressed the hope that this year's fair would allow LAU students to understand what these organizations stand for, and to learn how gratifying giving back to the community can be.
According to Abou Faour, more often than not, Lebanese NGOs act as a substitute for — rather than a complement to — the Lebanese Government. "We are all immensely thankful for all that you do," he said, addressing the NGOs. "If it weren't for your great accomplishments, the Lebanese community as a whole would have suffered."
This year's fair set itself apart from the previous years' through LAU's unshakable partnership with the Ministry of Social Affairs; the Lebanese Association for Development, Al Majmoua; the European Union Delegation to Lebanon's Sustainable Development Section; the International Finance Corporation; Save the Children; and USAID's Office of Education, Democracy, Human Rights, and Governance.
By placing LAU at the very heart of these invaluable partnerships, the university builds a crucial nexus of correspondence with these organizations, allowing all the parties involved to benefit from — and to network with — one another.
This is the ethos of OCE's mobile application "LAU NGO," that was officially launched at the event. The application provides a list of all the NGOs located in Lebanon, including their contact info, mailing address, objectives, and upcoming events. It aims to encourage students to keep close ties with the organizations they wish to volunteer with, keeping them up-to-date with what civil society has to offer and how they can help.
"If we work together, we can achieve miracles," said LAU President Dr. Joseph G. Jabbra. "Union makes strength," he added, "and there are no limits to what humankind can accomplish if we collaborate and cooperate together to serve common good."
LAU student Ziad Naboulsi's NGO, ALEF, was among the participating organizations in this year's fair. ALEF seeks to strengthen the respect and fulfillment of human rights as a cornerstone of social, economic, and political development. "We care about human rights education first and foremost. We want to help Lebanese youth — university students, in particular — to be seamlessly incorporated in civil society through social work and volunteerism," said Naboulsi.
Sarah Ghandour, a business student at LAU, said she was delighted to see such a big number of NGOs participating this year. "I've always wanted to volunteer, but it's one of those things you have to find the time and passion for," she says. "It's not about adding a line or two to your CV — this is something that could change the way you view the world and the people around you."