Paving students' way toward a successful pharmaceutical career
Through career fairs and hands-on experience, LAU enables its pharmacy students to test a wide array of specializations in the field.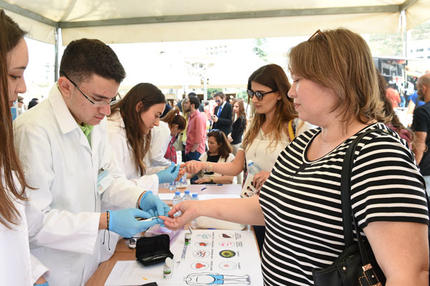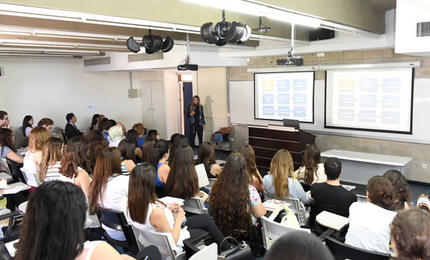 Pharmacists do more than wear white coats and fill out prescriptions behind a counter. In fact, pharmacy reaches far beyond the community shop-front level and helps us better manage our everyday lives in ways that often go unnoticed.
LAU's School of Pharmacy, recognized nationally and regionally for its progressive curriculum, is committed to ensuring that its students experience first-hand the variety of forms this profession can take, in order to find the one that best suits them.
Among different events organized to help students explore their options, this year LAU hosted in May―and for the first time―a Career and Open House Pharmacy Day, inviting representatives from Lebanon's leading pharmaceutical companies and health organizations on the lookout for talented students and graduates.
Nearly 15 global and regional companies, all dedicated to providing valuable opportunities to students took part in the event. "We at Amgen, remain committed to supporting LAU and future healthcare professionals in their journey with a common objective and mission to serve and create value for our patients and community," explained Amgen's Senior Country Manager – Levant Markets Lama Mouhayar.
The fair also catered to potential pharmacy students. "Prospective students, along with their parents, were informed about the school and the different career options should they decide to pursue pharmacy as a major. They were also put in contact with current students," commented Jad Abdallah, LAU assistant professor at the School of Pharmacy, who played a key role in organizing the event.
Sanofi's HR business partner Lama Abboud presented her company's new summer internships to students. "They have really good knowledge and excellent communication skills," she said of LAU students, remarking that a number of them are already working with Sanofi, one of the leading companies in Lebanon. "We are looking for pharmacists who are motivated, already have some training, and have conducted volunteer work or have distinguished themselves in another way."
In line with these criteria, LAU offers students every possibility to build on these areas and qualify for internships and employment. Besides mentorships and opportunity elective courses, students are able to pursue their studies and take part in rotations in the U.S. as LAU's Pharm.D. program is recognized by the Accreditation Council of Pharmacy Education (ACPE). "Thanks to these opportunities and to a well-rounded curriculum, our students are gaining exposure in all pharmaceutical fields," said Aline Saad, clinical assistant professor at the School of Pharmacy.
It was through this exposure, in fact, that graduating student Perla Saud discovered her passion for clinical pharmacy and decided to enroll in a Ph.D. in the U.S. "I conducted a rotation at LAUMC-Rizk Hospital's cardiology department and found that working with doctors and residents to find the optimal therapy for our patients was for me the most rewarding experience," she said. As part of her course at LAU, Saud worked at hospitals, NGOs and community clinics, catering to diverse needs.
"It was an eye-opening experience that made me understand that the best thing about pharmacy is the many possibilities it opens up."