Pharmacy students enlighten peers about optimal use of drugs, cancer prevention
The Pharmacy Week in Byblos raised awareness on proper medication use, cancer prevention, and other medical issues October 29–31.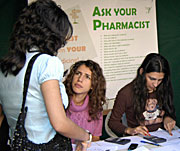 Pharmacy students counsel peers on health issues.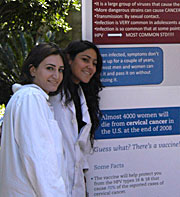 Posters raise awareness on cancer prevention.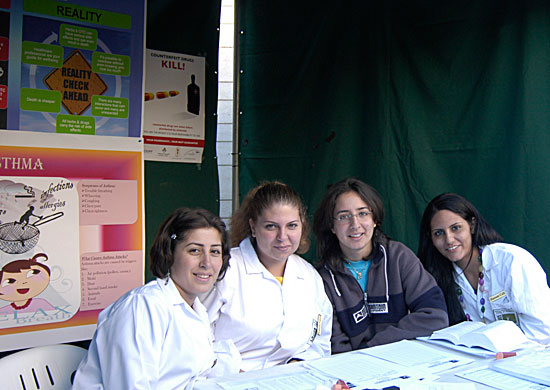 One of the booths set up for the Pharmacy Week.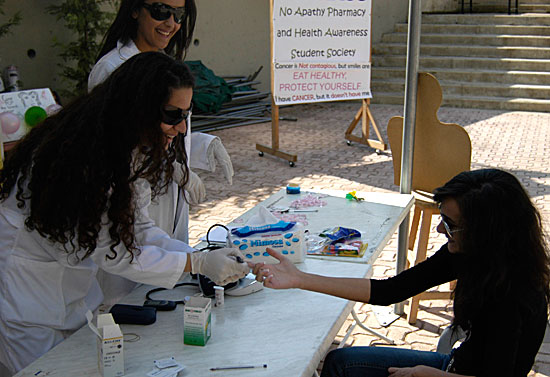 Performing blood glucose test.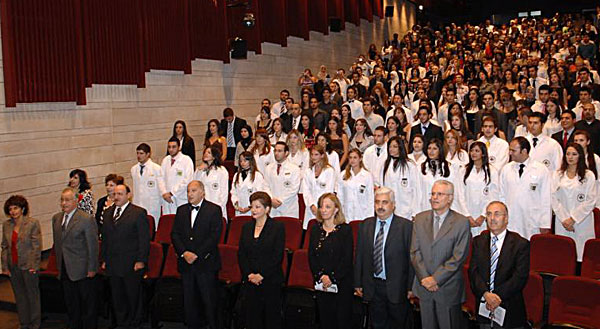 White Coat Ceremony, October 27.
Click on any photo above to view all five images
Even before having graduated, LAU pharmacy students put into practice their knowledge about proper medication use, cancer prevention, smoking cessation, healthy nutrition, and other medical issues during the fifth Pharmacy Week, October 29-31.
Organized by the School of Pharmacy and NAPHASS, the Byblos event targeted mainly the LAU community but also visiting high school students.
"Educate Before You Medicate" was the main theme of the awareness campaign's first and third days, led by Pharm.D. and B.S. (first and third professional-year) students, respectively. "Our message [to the community] this year is education. Learn about your drugs, and know that drugs taken blindly may be hazardous," said Dr. Marwan Akel, assistant professor of pharmacy.
The students seemed to be aware of their essential role in this regard. "We're specialists, we're pharmacists, we're drugs experts. We're not here just to sell and buy drugs… We're here to counsel patients on the way they have to take [them]," said Lama Kheir, fourth-year pharmacy student.
The second professional-year students took over the second day's activities that focused on raising awareness on cancer and its prevention. The subject was high on the agenda, as "studies have shown that cancer is severely on the rise in Lebanon due to people's ignorance of detection," said Akel.
Throughout the three days, booths erected on campus were transformed into "little clinics." Pharmacy students advised visitors of their prescriptions and diets, and measured their blood pressure and body-fat percentage. Posters on hypertension, diabetes, asthma, smoking, and cancer aimed at attracting passers-by's attention through visuals and slogans.
The pharmacy students were "excited about helping people and giving back some of their knowledge," said Dr. Aline Saad, clinical assistant professor.
On the last day, 130 highschoolers visiting the campus to learn about the pharmacy program took part in the various activities. They also attended a lecture by Dr. Ziad Nassour, former president of the Order of Pharmacists of Lebanon, who spoke about the educational role of pharmacists and the issue of counterfeit drugs in Lebanon.
The Pharmacy Week also served as an opportunity to raise funds for the Children's Cancer Center of Lebanon by selling mugs and cakes. "We are all committed to helping the center fulfill its mission of helping children receive better care," said Christian Khoury, fourth-year pharmacy student.
The spirit of the pharmacy students during the Pharmacy Week showed that they had grasped Dean Farid Sadik's words at the White Coat Ceremony a week earlier. "A lot is expected from you as you embark toward a career in pharmacy, including your duty to contribute to its advancement, protect its reputation, and value the ethics it represents," Sadik had said at the ceremony. It had marked the start of the academic year for 26 pharmacy doctorate candidates and 75 undergraduates.