Pharmacy students learn about emotional intelligence
Pharmacy students participate in a workshop on 'Building Confident Performers' conducted by LAU's Outreach and Civic Engagement office.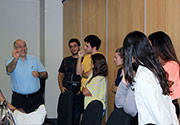 Two groups of 15 P4 students each took part in the interactive workshop.
Click on photo for larger version.
With the aim to help its P4 students to practice and further develop their emotional intelligence skills, the School of Pharmacy organized a workshop entitled "Hands on Strategies for Building Confident and Collaborative Star Performers" on June 20 and 25.
Led by LAU's Outreach and Civic Engagement office, participants took part in exercises that mimicked real-world situations that primarily addressed the importance of self-awareness, self-management, interpersonal communication, teamwork, conflict resolution and building self-confidence.
According to Dr. Imad Btaiche, associate dean for academic affairs at SOP, education has long emphasized reasoning and technical abilities as standard qualifications, but has fallen short in building students' soft skills ¬¬— also called people skills or emotional competencies.
"It is proven that interpersonal skills are at least equally if not more important than professional competencies in building a successful career, having meaningful relationships and achieving work-life balance," he said.
Elie Samia, executive director of OCE, who conducted the workshop agrees: "Many people overlook the fact that there are many forms of intelligence necessary to create strong leaders," he told the students. In fact, Samia provocatively suggested that emotional intelligence, EQ, is of even greater importance than IQ.
The students were clearly engaged and inspired by what for many of them was a totally new approach to understanding intelligence and leadership. "This holistic approach to leadership places value upon an understanding of non-verbal communication, empathy and honesty," insisted Samia.
Honesty, which Samia described as 'doing what's right when no-one is looking', was an attribute that was especially upheld as being key to leadership, and which echoes the ethos of the School of Pharmacy's curriculum that is centered on ethical practices and deontology.
"The environment in which the workshop was held fostered teamwork and group interaction; dynamics I really appreciated," said pharmacy student Tara Maria Ghosn. "It made me think of facing and solving challenges in new ways," she added.
Indeed students were encouraged to think about the cultural challenges they will soon be confronted with as they undertake placements in the U.S., how they may adapt to that diversity and to the pressure of being away from home.
And as Ghosn says: "What we have learned concerning emotional intelligence and teamwork will allow us to stick together and support each other through thick and thin."