Pharmacy students serve the community
LAU and its partner, the Makhzoumi Foundation, take a proactive stance towards vaccinations and healthcare.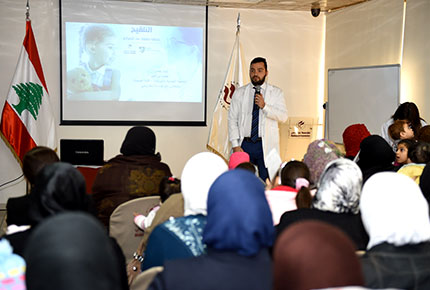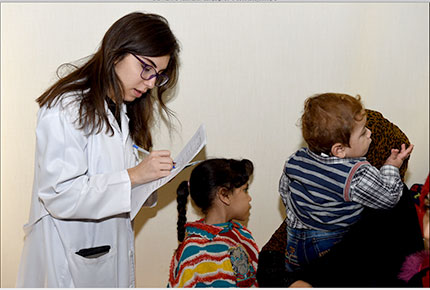 Thirty mothers, three fathers and no less than 50 Syrian children gathered with students from LAU's Pharm.D. program at the Makhzoumi Foundation center in Beirut last week to learn about where, how and why children should be vaccinated.
"What illnesses can be prevented though vaccines?" asked Afif Brahim, a student of the School of Pharmacy's accredited graduate program, who was at the center on an ambulatory care rotation.
A number of parents in the audience, many of whom had attended a previous talk about family planning also given by LAU students as part of their rotation, raised their hands or shouted out illnesses.
"With each talk we are building a stronger rapport with the community," explains Clinical Assistant Professor, Ghada Khoury, who is responsible for the rotation that, as of three months ago, has included presentations and services delivered by students to beneficiaries of the Makhzoumi Foundation.
"This is a great opportunity for us to put into practice what we have learned in theory," said Linda Khadra, one of the four students who participated in the day's activities that began with a lecture and concluded with the provision of complementary vaccinations for all the children present.
"I have completed other rotations, but this is the first one that has brought me in contact with people from a low socio-economic level. This will help me grow in my community," explained fellow student Samar Hayek.
"These experiences are essential, particularly in Lebanon, where pharmacists are on the front line and constantly interacting with patients, who often can't afford to visit a doctor," noted Khoury. "As such, this new collaboration with the Makhzoumi Foundation is exceedingly rewarding for both the community and our students."
Program support officer at the foundation Dania Hajj Ali is also pleased with the partnership. "We are the only health care center to offer such talks to the community. We all benefit from them," says Hajj Ali, referring to a recent lecture and training about medication reconciliation offered by the LAU students to the foundation staff. "Medication reconciliation is part of our accreditation system, so it was great for our staff and the benefits for the community are immediate."
The Makhzoumi Foundation has for some time enjoyed a partnership with LAU's School of Medicine and the expansion of the affiliation to include the School of Pharmacy has been extremely well received. "The service we're being able to offer the community today is unique. Many of the Syrians, who joined us here today, have missed scheduled vaccinations. So, we LAU students are conducting full reviews of each patient to see how to help them," said Hajj Ali during the vaccination program. "Academic partnerships are always invaluable."