Pharmacy students trained in emotional intelligence and conflict resolution
LAU's School of Pharmacy organizes a series of standing workshops to enhance its students' soft skills ahead of Advanced Pharmacy Practice Experiences.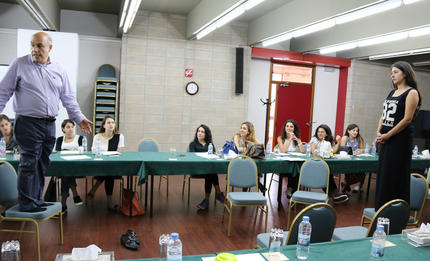 LAU's School of Pharmacy collaborated with the Outreach and Civic Engagement (OCE) unit to train its graduate students in emotional intelligence and conflict resolution. The initiative came ahead of the four-month required Advanced Pharmacy Practice Experiences (APPE) in the United States, where the budding pharmacists will boost their academic learning in various patient care settings and medical sub-specialty environments.
"They're moving to a different country and culture, and will be interacting with people they're not previously used to, so such workshops are very important," said Clinical Associate Professor and Chair of Pharmacy Practice Soumana Nasser.
Incoming Pharm.D. students of the 2017-18 class gathered around Assistant Vice President for Outreach and Civic Engagement at LAU Elie Samia for a full day training in effective negotiation and conflict resolution skills, one week after he had guided them through a workshop on emotional intelligence.
Conflict, explained the seasoned trainer, arises from a lack of clarification of the facts, a misunderstanding about processes and goals, and a misalignment of values. "You will need to learn how to negotiate expectations if you are to live and work together in serenity," said Samia to the students.
The highly active and interactive exercises saw students dance, sing, stand on chairs and even cry. "Are you now convinced that self-diagnosis is very important for self-improvement?" asked Samia. The response was a resounding "yes" by students who had spent the day analyzing their personality types and identifying their weaknesses and strengths. Such awareness of self is essential for effective negotiation, which entails being understood and having one's needs accommodated.
"This has been so helpful and will definitely make a difference to our experience abroad," says student Nancy Hoyeck. "We now have tangible tools to help us navigate discussion and avoid conflict. This will no doubt have a direct impact on our work."
Coordinator of the events, Clinical Associate Professor and Director of Experiential Education Lamis Karaoui added: "The OCE workshops are organized within the framework of co-curricular activities that promote students' leadership, self-directed lifelong learning, professional development, and interprofessional collaboration."
Under the leadership of Dean Imad Btaiche, the school has been fully geared toward expanding the soft skills of its students. "We have been introducing various activities to enhance leadership, social and civil responsibility, intercultural understanding, creativity, volunteerism and advocacy among our students," he said. Such activities complement the core curriculum and take various forms, conducted both in and outside the classrooms and campus. "This is but one way in which we are advancing our curriculum, strengthening the civic responsibility of our students and preparing them for solid careers," he added.