Class of 2014's deep roots
LAU's graduating class embarks on a "plant your class tree" initiative, for the third year running.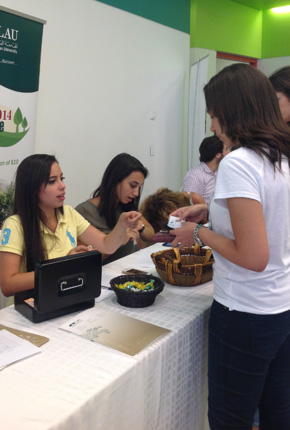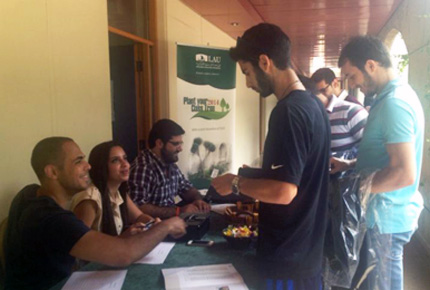 Trees — which represent growth and longevity — are particularly loaded with symbolism in Lebanon, where the cedar is the nation's insignia. It was in this spirit that, for the third consecutive year at LAU, the Development Office embarked on a senior class gift campaign. The Development Office invited graduating students on both campuses to donate a minimum pledge of $10 each to their soon-to-be alma mater with the purpose of raising funds for needy and deserving students while planting a tree, one on each campus, in the name of their "Class of 2014."
A total of 581 students contributed to the campaign with a record total of 5,800 USD being raised for financial aid.
"From July 1 to July 10, the Development Office had stands during cap and gown collection as well as the commencement rehearsals on both campuses, soliciting support for this campaign," says Lana Abou Teen, associate director of Development. Three students trained by Abou Teen manned the stands under her supervision. The Hospitality Department also collaborated in order to facilitate the process.
"The students showed great interest in helping their fellow students pay tuition while also leaving a legacy of their class," says Abou Teen.
During cap and gown collection, students were briefed on the project, and those who wished to contribute simply left their information and a donation. Each received an LAU car sticker as a small token to thank them for their role in the campaign. Similar stands were also in place during commencement rehearsals, with great success. In coordination with Facilities, the Development Office planted an olive tree on each campus to be named in honor of the graduating class of 2014.
"Creating a culture of giving back to the community is part of the LAU ethos and we are very pleased by the results of this campaign. I know it's going to be even bigger and better in the future," adds Abou Teen.
LAU banking and finance graduate Mohammad AbuNil, himself a former LAU financial aid student, says that quality education should be available for all. "I am proud to belong to a university that helps talented students get the education they deserve—whether or not they can afford it," he says, adding: "This is the second campaign I have participated in and I plan to continue well into the future."