Play it out of tune!
LAU's fall theater production Mathhab pays tribute to defenders of social and political freedoms.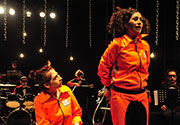 Syrine Dardari, seated, and Mira Saidawi play opposite each other.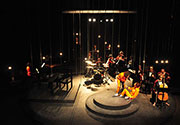 Like the original play, Mathhab had an orchestra on stage.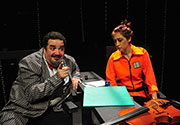 The physician is characterized by professional actor Tarek Tabib's playfulness and imbues the play with humor.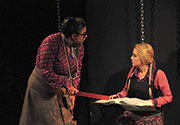 Loulou, the dissident's daughter played by Aline Salloum, is scolded by her teacher played by Hilda Abla.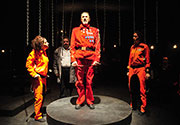 The two patients are released thanks to a reversal of situation operated by the colonel in charge of their internment, here played by LAU Photography Instructor Bassam Lahoud.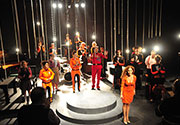 Stage Director and Theatre Instructor Lina Khoury has more than eight academic and six professional plays to her credit.
Click on any photo to view all six pictures.
"What are you doing here?" asks Layla. "They put me here," replies her cellmate who goes by the same exact name.
Mathhab, adapted and directed by LAU Stage Director and Theater Instructor Lina Khoury, is based on the 1977 Tom Stoppard play Every Good Boy Deserves Favour about two men who share a cell in a Russian psychiatric hospital. One is a Soviet dissident who will only be released if he admits that his statements against the rulers are a product of his mental illness, the other is a genuine mental patient conducting an imaginary orchestra. The music ensemble forms an essential part of the show and was originally composed by Andre Prévin, head of the London Symphony Orchestra at the time.
"Since tyranny and oppression are everywhere under different names, Mathhab can actually be taking place in any Arab country," says Khoury.
In Khoury's adaptation, the main actors are two female students. The dissident is Syrian, the patient, Palestinian.
"Considering our regional context, to have actors of these origins - with their respective accents - play such roles, was important and put the play into perspective," says the director.
Indeed, Syrian student actor Syrine Dardari's poignant call for the respect of basic freedoms continues to resonate hours after the play is over.
Armed with courage and determination, the prisoner doesn't yield, even to her daughter's supplications to give in and come back home.When berated about her mental disorders by the state hospital and national security mandated physician, Layla the dissident cries out, "I don't have disorders, I have opinions." To which the doctor replies, "Precisely. Your opinions are your disorders!"
For Dardari, second year student in communication arts, the experience is life changing. "When I heard about the play I immediately auditioned and told Lina Khoury that I wanted the role, that I needed it."
She says she is proud to be part of what she calls a revolutionary play. "It is a tribute to my people, to my country."
While the original title, Every Good Boy Deserves Favour, derives from the popular mnemonic used by music students to remember the notes on the lines of the treble clef, Mathhab has two meanings in Arabic : "refrain" in music terminology, but also sect. It reminds us that oppression is not only the weapon of tyrant regimes.
The director's choice of two female prisoners clearly denounces gender inequalities in orchestrated, patriarchal and sectarian societies that restrict any freedom of expression from artistic to sexual."Social tyranny can be worse than political oppression," says Khoury.
Although the themes tackled are heavy and eerily bitter, the lightheartedness and sense of parody in the play, along with the actors' playfulness, keep the audience on the edge of laughter.
The role of the orchestra on stage- led by professional composer Oussama el Khatib and mainly consisting of students - is also crucial in setting a lighter or heavier tone at different times of the show.
Layla the mental patient, superbly performed by Mira Saidawi, sets her tone from the very beginning, "There is a little music in every one of us, and he who says the contrary is a tyrant."
She might just be the sanest of all.