Playing it safe
Assistant Professor of Food Science and Technology at the School of Arts and Sciences' Department of Natural Sciences Dr. Hussein Hassan talks about food safety in Lebanon.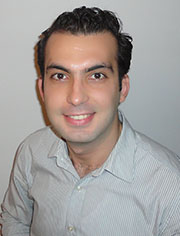 Dr. Hussein Hassan is assistant professor of Food Science and Technology at the School of Arts and Sciences' Department of Natural Sciences.
Lebanon is regularly shaken by serious food safety scandals. Ranging from a long list of unsafe products to unsafe practices, the media have recently revealed serious safety breaches that have shocked the population. What is happening and why?
Unfortunately, there is no place on earth that is free of foodborne diseases. This is due to lifestyle changes, consumer demands, increase in international trade and travel, changes in the animal husbandry, agronomic processes and animal feeding practices.
In Lebanon, those changes are combined with weak public health infrastructure, poverty and uncontrolled urbanization, environmental degradation and contamination of food and water sources. In short, there is no policy or strategy for effective food control in Lebanon.
What are the consequences on the population?
On the individual level, lack of food safety measures results in food poisoning. Symptoms can range from cramps, nausea, fever, vomiting and diarrhea to meningitis, paralysis and even death. Diseases that may result from food poisoning are typhoid fever, brucellosis (Malta fever) and dysentery. Food poisoning is the leading cause of hospitalization in infants under one year and most of the estimated 6,000 annual foodborne illness cases in Lebanon are not reported.
What measures can be taken on an individual level to stem foodborne illnesses?
Basic kitchen sanitation guidelines include disinfecting counters frequently, cleaning cutting boards after each use and washing tools used in the preparation in hot soapy water. Good storage practices should always be maintained. Also, the fridge should not be packed, and raw meat should be stored in sealed or covered containers separate from other items and placed in the lower shelf of the fridge.
In terms of preparation, all fresh fruits and vegetables should be thoroughly cleaned as this simple step removes a significant amount of pathogens. Also, frozen meat should be defrosted in the microwave or in the fridge overnight, but never on the kitchen counter.
What has been done already and what needs to be done in Lebanon to improve food safety?
A Consumers Law and a Food Safety Law were endorsed by the Cabinet in 2005 and 2006, respectively. The number of inspections has increased from a couple of hundred in 2008 to more than 11,000 in 2010, resulting in at least 400 fines. All food warehouses have been forced to get licensed, and a complaints hotline (1739) for consumers has been established.
However, there is still a lot to be done to minimize the incidence of food poisoning in Lebanon:
1. Ratifying the Food Safety Law sitting in the parliament since 2006.
2. Establishing a food safety body, a sort of Lebanese Food and Drug Administration (FDA), that unites the work of ministries and other public bodies and covers food laws and regulations.
3. Launching the National Council for Consumer Protection (article 60 of the Consumer Law) and a consumer protection court (article 97 of the Consumer Law)
4. Organizing an annual "National Food Safety Day".
5. Increasing surveillance of the customs on imported foodstuffs and tracking food products from their time of import throughout the distribution chain.
6. Establishing new slaughterhouses and closing down any business that repeatedly violates food safety laws.
7. Assisting the food industry in obtaining HACCP and ISO22000 certification to improve the quality and safety of their products and hence their access to markets abroad.
How is LAU contributing to the process?
The Nutrition program educates students on the different aspects of food safety, microbiology and quality management, producing graduates that are well-equipped with knowledge to improve food safety in their future workplaces. Also, I am currently carrying out two food safety research projects, in collaboration with School of Pharmacy Associate Professor Dr. Hani Dimassi. One tackles the food safety knowledge and practices among Lebanese university students and the other studies domestic refrigerator temperatures and their effect on food spoilage.
 
This article is the second in a series of Q&As with members of the LAU community, that will be posted on a monthly basis.