Poetry without borders
The life and works of famed poet Jawdat Haydar examined at LAU international conference.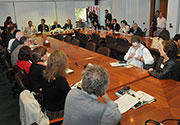 In 2011, Haydar's family made a generous donation to establish the Jawdat R. Haydar Memorial Study Room at Riyad Nassar Library on the Beirut campus.
Click on photo for larger version.
The life and works of the late poet Jawdat Haydar were the subject of a day-long international conference at LAU on April 24. Scholars from as far afield as the U.S., India and Africa came together for the first annual international conference on his legacy.
Several members of Haydar's family also attended the event, which was organized by the School of Arts and Sciences' Department of Humanities in collaboration with the Friends of Jawdat R. Haydar Organization.
Often referred to as "the prince of poets," Jawdat Haydar is one of Lebanon's best-loved Anglophone poets. Born in the Bekaa in 1905, Haydar lived to the age of 102, publishing his last anthology of poems just a few months before passing away. In 1925, he graduated with a B.S. in education from North Texas State University, a place fondly remembered in his poetry. He spent most of his working life in Lebanon, writing poetry that demonstrates a deep love of nature, other people, Lebanon and literature. His poem "The Temple in Baalbek" has been incorporated into the Lebanese high school curriculum, and a copy also hangs at the entrance of the Baalbek museum.
Haydar's poetry appeals to a universal audience because it is as much global as it is local, said his great granddaughter Dr. Ghia Osseiran. The centenarian used "poetry as a platform, not merely to compose verse, but to put forward ideas that addressed contemporary issues," she said. "His intention was not to impress with eloquence, but to advocate for real change on the ground."
LAU President Dr. Joseph G. Jabbra likewise paid tribute to a man who "exhorted humanity to put aside conflict." Living through times of growing cultural and ideological polarization, Haydar "wanted to be a bridge between civilizations, not an instrument in the clash between civilizations," he said.
Indeed, the poet's humanitarianism earned him a number of accolades, including Lebanon's Order of the Cedars, the Ninth Medal from Pope John the 23rd, and France's Croix de Grand Officier.
Haydar, who learnt English from conversing with British troops stationed in the Bekaa, had a "malleable sense of nationalism," said keynote speaker Dr. Jayson Iwen, assistant professor of writing at University of Wisconsin and editor of Haydar's 2006 anthology 101 Selected Poems.
Although his poetry vividly demonstrates pride in his Lebanese identity, Haydar was a citizen of the world foremost. "From his example, we can learn to engage meaningfully and respectfully with the cultures of others and to adopt them as our own without fear of severing previous attachments," said Iwen.
In 2011, Haydar's family made a generous donation to establish the Jawdat R. Haydar Memorial Study Room at Riyad Nassar Library on the Beirut campus. The room offers students an atmospheric place to study, surrounded by the works and mementos of the late poet.