Political forecasting
In collaboration with The American Political Science Association-MENA Workshop Program, LAU holds a panel discussion on the Arab Spring: Lessons and Challenges.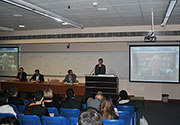 Organizers linked the large turnout to the role of political science in forecasting events in the Middle East.
Click on photo for larger version.

On April 18th, LAU Beirut held a panel discussion entitled "Political Science and the Arab Spring: Lessons and Challenges," moderated by Dr. Bassel Salloukh, associate professor of political science at LAU. The event was held in collaboration with The American Political Science Association (APSA)-Middle East and North Africa Workshop Program.
Following the introductory remarks, Dr. Elizabeth Super, APSA fellow and associate director, kicked-off the panel discussion by offering a detailed explanation and analysis of how electoral rules sharply impact democratic outcomes.
"There are general trends, but as political scientists collect a greater amount of data they see that there are exceptions and outliers," said Super. For example, one general theory is that rich countries tend to be democratic, yet the petroleum-rich Arab states are an exception to this rule, she explained.
"To get a better understanding of those exceptions it becomes imperative to understand the context of those political systems," she stressed before she outlined and compared various electoral differences and the likely scenarios they would produce.
An interesting comparison was also made to Latin America as Dr. Micheal Coppedge, professor of political science from Notre Dame University joined the panel via Skype videoconferencing. "Single-party regimes in some parts of Latin America mimic systems seen in the Arab world—where you have a proliferation of "clientelist" policies," Coppedge said. He went on to add that such policies significantly affect the transition to democracy and are a consequence of resource dependency."
PhD candidate at Saint Andrews Ahmed Morsy, associated with the APSA-MENA Workshop Program, discussed the anxieties that have been raised in a post-Mubarak world. He went on to point out that Egypt has a long road ahead and that the country's political landscape is still volatile.
"This is one of the rare events that bring together international political science experts in a roundtable to discuss critical disciplinarily topics," said Dr. Imad Salamey, associate professor of political science at LAU.
"Having this roundtable at LAU and organized by the American Political Science Association, the world largest and most prestigious political science organization, highlights LAU's growing disciplinary relevance," he continued.
A lively Q&A session allowed students to take part in the discussion.
Economics student Ines Zredete attended the panel to have a better understanding of politics in the Levant.
"Understanding the context is particularly pressing in the Lebanese case since there is a hot debate about reforming the electoral laws in the country," she said.
"It is important to understand how the history of the country directs the political trajectory we see today—especially sectarian politics," she added.

The American Political Science Association (APSA) and the American University in Cairo (AUC) announce a call for applications from individuals who would like to participate in a workshop on "Varieties of Democracy." The two-week workshop will be held on September 8-12, 2013 at AUC. Program information, eligibility requirements, and a web link to the online 2013 application form can we found at: www.apsanet.org/menaworkshops.