Politics to music, a mutual relation?
LAU professors and international artist Ray Furuta come together to show how politics, like art, is rooted in conflict and harmony, and how they influence each other.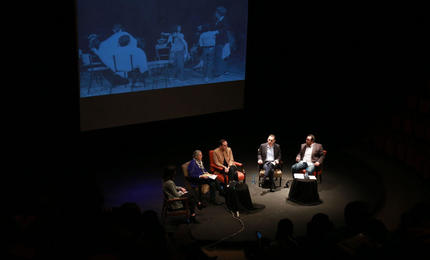 Four panelists from different backgrounds came together on Tuesday at LAU Beirut to discuss the role of the arts in politics and how politics have influenced art and artists throughout history.
"With what is happening in the Middle East and the United States, we need a strong weapon or an element that can bring people together, and I believe that music and the arts in general can effectively open up discussions and incite conversations when times are tough," said Adjunct Faculty Seba Ali, who organized the event.
A classical pianist and educator, Ali believes that the power of music goes beyond language and its constraints as everyone relates to music; listening is the key to enhancing communication, and music, by virtue of being a universal language, teaches you just that.
Ray Furuta, artistic director of Chamber Music Silicon Valley and lecturer of flute at Santa Clara University in California, could not agree more. For him, his mere presence in Lebanon is an indirect form of protest against the U.S. presidential elections and the false xenophobic beliefs that it has brought with it.
At the concert that will be held on February 13 (LAU Byblos) and 15 (LAU Beirut) ―a co-joint event to this panel discussion―the flutist will be performing a selection of eclectic pieces that evoke stories from conflicts around the world dating back to the Second World War and including compositions mourning the victims of 9/11. He will be accompanied by Assistant Professor of Music Amr Slim on the French horn, and who not only plays occidental music but also oriental tunes. As an educator, Slim feels compelled to enlighten students on the history of Arab music, especially in an age where they are easily drawn to mainstream music, mainly occidental, he explains.
With his social sciences perspective, Associate Professor Imad Salamey, believes that the power of music resides in its ability to mobilize the masses. From Sam Cooke's "A Change Is Gonna Come"―which denounces racism against African Americans―to Nizar Qabbani's poem "Asbah 3andi Boundoukiya" (I now have a rifle) extolling the Palestinian struggle, and performed by Umm Kulthum, Salameh gave examples of music and songs that moved people because they spoke of their hardships.
"Art is a healer," said Associate Professor of theater Mona Knio. "Sometimes theater is better than medicine," she declared, adding that the ability to express oneself is what makes the community a safe space. She reminisced about the time Masrah al Madina opened its doors to refugees during the July 2006 war in Lebanon, and how the art and theater workshops created for kids helped reshape their daily lives.
Within the framework of this event, several concerts and workshops will be organized involving national, regional and international experts and artists. Click here for more information about these events.