Beirut airport hosts LAU business students
Budding business students get a behind-the-scenes look at Beirut's Rafic Hariri International Airport.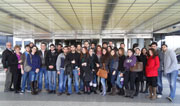 Dr. John McGill and Nadia Azzam, far left, with students from Azzam's International Marketing class at Beirut's Rafic Hariri International Airport.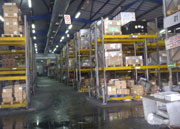 The group toured parts of the airport rarely seen by the public.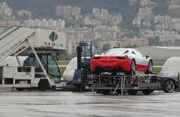 Students learned how imported goods, like this Ferrari, are processed through customs.
Click on any photo above to view all three images.
Beirut's Rafic Hariri International Airport offered up some of its operational secrets to a group of 35 business students during a field visit on November 19.
Nadia Azzam, a part-time instructor at the School of Business, organized the trip for students taking her International Marketing class in order to expose them to a "real-life business environment."
She says that the field visit to the airport required extensive preparation and a number of official permits, but gave students "the chance to see how theories learned in the classroom are translated and applied into everyday business situations."
"In addition, these field visits prepare our students to network with key authorities in Lebanese Customs in the future," she adds.
Officials gave students a detailed account of the airport's import procedures, covering customs inspections, tariffs and penalties, warehouse protocol, and documents required for entry.
A guided tour followed, bringing the students to various offices where they had a first-hand look at systems of document processing, tax payments, and merchandise clearance.
Students got a close look into cargo planes, visited warehouses filled with boxes and parcels, and witnessed freight being inspected, cleared, and electronically scanned before delivery to importers and agents.
Following a briefing by Zaher Abi Ghanem, head of the duty-free zone, the students visited duty-free sections at both the arrival and departure areas.
Dr. John McGill, chairperson of the Department of Management, Marketing, MIS, International Business Systems, and Family and Entrepreneurial Business at LAU Beirut, who accompanied the students, agrees that students learn best from experience.
"The field trip to Beirut Airport offered students many benefits — learning in a new environment, putting knowledge into practice, and exposing them to experience relevant to marketing," McGill says. "Overall, it was a job well done."
"The visit was interesting and efficient because we saw a direct application of what we have studied in class," says business major Ola Chahine. "This enabled us to better understand what happens on the ground."
Fellow business student Sarah Rajeh agrees, adding that she hopes the customs control system they learned about continues to move forward in a systematic way, because in Lebanon, she says, "theories need to be properly implemented."
This is not the first time Azzam has organized field trips for her students. In May of last year, she took her international marketing students to Beirut's port, where they were exposed to loading and unloading of containers from docked vessels. In 2010 Azzam's students visited a company specializing in a full range of international marketing services.