Primitia premieres
LAU's School of Architecture and Design hosts first-ever exhibition of Fine Arts and Design faculty work.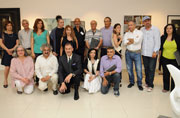 Artists and faculty of the Department of Fine Arts & Foundation Studies featured in the exhibition.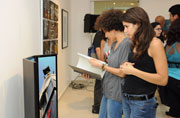 Students contemplating their teachers' work.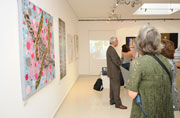 The exhibition reflected the influence of various schools, approaches and currents testifying of the richness of LAU's art scene.
Click on any photo above to view all three images.
LAU's School of Architecture and Design (SArD) hosted its first exhibition of Fine Arts and Design faculty work from May 29 to June 7 at LAU Beirut.
Under the title Primitia — "first fruits" in Latin — the event was organized by the Department of Fine Arts and Foundation Studies, and drew students, fellow faculty members and art lovers from across the country.
"This event prominently showcases faculty talent and diversity in terms of theory, technique, skill and generation," said Dr. Elie Badr, interim dean of SArD.
From video, photography and ceramics to abstract painting and sculpture, the exhibit presented the work of 25 faculty members, some of whom were exhibiting for the first time.
"We have artists here who are well established locally and internationally and others who are debuting," said Rached Bohsali, chairman of the fine arts department.
"Our yearly exhibitions have always promoted student work — the product of their hard work and intellectual exchange with their mentors. It is only fair now to recognize our faculty," Bohsali added.
Noura Nassar, first-year student in interior design, contemplates a painting by her professor Ghassan Ghazale: Knot/3okda, a 124 cm x 124 cm canvas with circles of various sizes and colors on a green and red square background, dominated by a black knot-like drawing with Arabic calligraphy inscriptions in glittery silver and gold.
"It reminds me of projects we have been discussing in class," she said. "Now I understand where my teacher comes from, how he thinks."
According to Bettina Badr, faculty member and exhibiting artist, Primitia establishes a new relationship between students and faculty. "We are usually the ones assessing their work; this time it's the other way around. We are the ones awaiting their reactions and feedback," she said, adding that this breaks barriers not only with students but also between faculty members themselves.
Internationally renowned artist and fine arts program coordinator Chaouki Chamoun agreed. "As colleagues and friends we constitute the school's art scene, too often we collaborate without actually knowing each other's work," he added.
Chamoun is president of the Lebanese Artists Association, and his work is displayed in many public and private art collections across the globe.
"This exhibition reflects the influence of various schools, approaches and currents in Lebanon and worldwide," he concluded. "It gives an idea of the richness of the school's art scene."
During the opening ceremony, LAU Provost Dr. Abdallah Sfeir expressed profound admiration for the artists. "After a first look, I have to say that I am impressed to see the work of artists/professors who serve as a model for our students whom are in turn allowed to have a critical eye on their work," he said.
SArD has committed to making the exhibition an annual event.
"It is our mission to show our community and the world that Lebanese artists are a special breed that can produce art incorporating different philosophies, themes and cultures. In my opinion, no other work can be so extravagantly rich," Badr said.

Primitia featured the work of artists Randa Abdel Baki, Celia Abou Arbid, Bettina Badr, Zeina Badran, Nabeel Basbous, Rached Bohsali, Chaouki Chamoun, Naim Doumit, Bassam Geitani, Ghassan Ghazale, Carlos Ghossoub, Mona Jabbour, Abdallah Kahil, Donna Kdouh, Bassam Lahoud, Fadi Mattar, Samar Mogharbel, Ziad Naccache, Gretta Naufal, Christina Rahme, Albert Saikaly, Arwa Seifeddine, Hanibal Srouji, Yasmine Taan, and Afaf Zurayk.