Professors learn the art of expression
LAU faculty members bridge the gap between writing and performing under the skillful guidance of writer Leila Buck.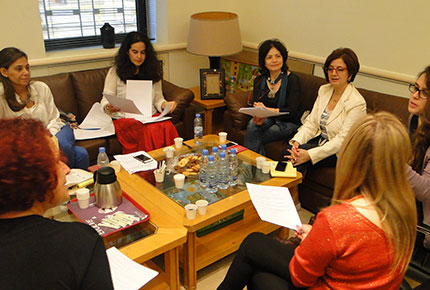 A three-day writing for performance workshop has taken LAU faculty members from the departments of English and Communications Arts on a journey through language and theater. Led by Leila Buck, a renowned Lebanese American writer, actress, storyteller and teaching artist, the workshop aimed to help educators acquire the right tools to bridge writing and performing.
"Acting out your words makes you a better writer," said Nermine Mufti, senior English instructor at LAU and organizer of the workshop. "When you know you are going to perform your own text, you choose your words more carefully and you write from a more intimate point of view."
The idea of the workshop came to her when she saw Leila Buck performing her play "Hkeelee" (Talk to Me) at Zoukak Theater in Beirut. "I thought I should bring her to LAU to gain knowledge on the field of storytelling and determine how we can help our students express personal stories."
The power of Buck's performances stems from her talent for recounting intimate tales based on real life experiences. In "Hkeelee", she represents her journey away from her culture in favor of an American identity through an interactive exploration of her Lebanese grandmother's loss of memory. Among her other productions that toured the world is In the Crossing, an ensemble piece about her relationship with her Jewish husband during the Israeli-Hezbollah war of 2006.
"When I started performing very personal pieces about cross-cultural identities, I learned that people in the U.S. were not being told stories of the kind," said Buck, who maintains that being able to express an intimate moment is what makes the story powerful.
The workshop, held on November 12, 13 and 14, was underway when the terrorist attacks in Beirut and Paris took place. These tragic events led to discussions among the group on how to bring students to channel emotions triggered by a traumatic experience into their writing.
"The aim of the workshop was to make these educators aware of what works with students by turning them into students themselves," said Buck. She achieved this by getting each participant tell a personal story. Once they had undergone their own evaluation, participants were able to discuss the most effective ways of assessing their students and giving them feedback.
The workshop gave LAU part-time instructor Mounawar Abbouchi ideas that she is eager to implement in her classes. "I found it very useful to share my story orally in pairs before writing it down, to test the effect on others and to get their feedback," said Abbouchi. "I also will encourage my students to do more free writing. Not only is it a good exercise, it is also therapeutic."