Promoting a culture of good writing
LAU launches Writing Center in Byblos.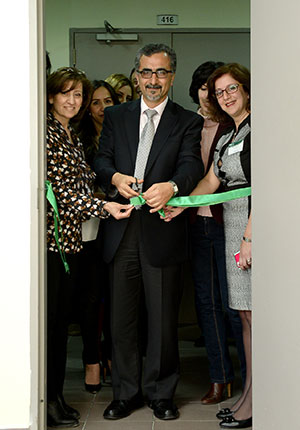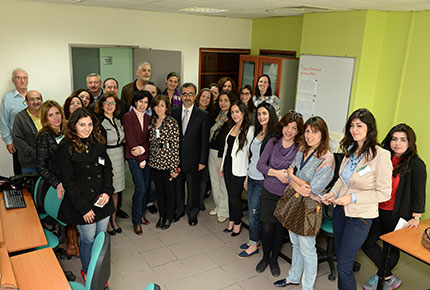 "There is nothing to writing. All you do is sit down at a typewriter and bleed," said famous American author Ernest Hemingway. Of course, with the right support and tutelage, the process can be a lot less painful. It is in this spirit that LAU's Byblos campus inaugurated its very own Writing Center on March 26. The Byblos launch comes on the heels of a very successful run at the Beirut campus Writing Center.
"We prepare our students for the writing they need to do for their classes and beyond," said Paula Abboud Habre, a senior instructor of English and the director of the Writing Center.
Free, one-hour individual writing consultations are offered to all members of the LAU community. Texts may include academic essays, research papers, reading responses and CVs.
Addressing the audience who turned out to support the center on its inauguration day, interim Dean of the School of Arts and Science Nashat Mansour stressed that being able to write well is one of the most important abilities that students take away with them after they graduate. "They may forget theories and concepts, but the skill of good writing will serve them well after they leave LAU." He added, "learning to write is a life-long process and a powerful tool for all majors."
Future nurse, Xena Amro, is one of Byblos campus' many science students, who are taking advantage of the services offered by the Writing Center in Beirut. "I am so happy we finally have a Writing Center here on the Byblos campus," she enthused. "As a student in a non-humanities discipline, I like the idea of being able to improve my writing—a skill that is crucial to succeeding in university and one that the sciences don't focus on."
"The tutors are all very considerate and try their best to help students achieve their highest level of writing," she continued.
Habre, who has been an instructor at LAU since the early 1990s, believes that trained tutors are an invaluable complement to the work being done in the classrooms. "University professors are often limited with their time—and we are happy to give students one-on-one time and feedback on their writing," she says.
"The center aims at promoting a general culture of writing at the university, at enhancing writing across the curriculum and at helping students develop as more thoughtful, independent and rhetorically effective writers."
This past fall the Beirut center was flooded with over one hundred more requests for assistance than they had anticipated. "This is how we knew that we had to offer the service in Byblos as well," explained Habre.
Many faculty members were present at the launch of the Byblos center, including Dr. Brigitte Wex, professor of chemistry. "My colleagues and I felt that this was something that students not only wanted but really needed, so I'm very pleased to witness the inauguration today," she enthused.
For more information on the Writing Center please see: http://sas.lau.edu.lb/deli/facilities/writing-center.php