Putting the students on the right career path
LAU's School of Pharmacy's course on career planning helps graduates decide on their future before stepping out of the university.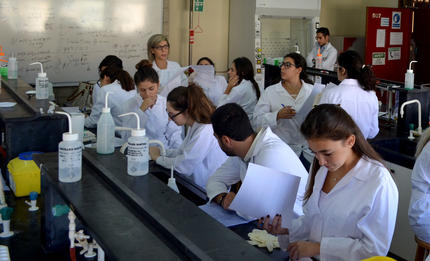 Elsa Kobeissi — who only a few weeks ago bid farewell to her alma mater — is getting ready for a new journey as she heads for the Imperial College of London this September, where she will pursue a master's degree in public health with an emphasis on global health.
Graduating with a B.S. in Pharmacy, she credits the curriculum and her professors for putting her on the right track. "My choice is the result of a process that started with the Career Opportunities course, followed by regular brainstorming with professor Roy Kanbar," she says, referring to the assistant professor and chair of Pharmaceutical Sciences. "We took into consideration my academic skills, my personality and passion for volunteering, and finally the best programs and colleges that fit my future career interests."
Reflecting the university's commitment to academic excellence, student-centeredness and the education of the whole person, the School of Pharmacy structures its curriculum and co-curricular activities so as to prepare its budding pharmacists to pursue successful futures.
"It is of strategic importance to the school that its graduates have a high and predictable chance of gaining employment and achieving ongoing success in their careers," says Dean of the School of Pharmacy Imad Btaiche.
With this in mind, three years ago Btaiche worked together with Kanbar and Clinical Associate Professor Aline Saad to create the "Career Opportunities" elective. Offered to second and third-year students, the course provides students with insights into different professional paths.
According to Kanbar, the course compensates for the fact that students are so involved in their studies that they do not take the time to think of the next step. The one-credit elective encourages them to plan ahead by introducing them to a diversity of career pathways, from academia to industrial, community and clinical settings. The students are then asked to develop a career vision, explaining why they believe themselves best suited for the path they have chosen.
"This course is a wakeup call for the students," explains Kanbar. "We want them to put a plan together, look at the different options available and hopefully be ready to embrace one once they graduate," he says.
"I never really thought of what I wanted to do," admits fourth-year pharmacy student Diana Frangieh. "Then I wrote my career vision and I now think I have found my path." Frangieh will apply to become a Pharm. D. as she would like to pursue a residency and work in a hospital setting, preferably in cardiology. "In addition to having a clearer idea of what my future might be like, I have also learned to be more self-confident."
Indeed, the class also focuses on enhancing the students' soft skills and strengthens their verbal, written communication, as well as leadership and entrepreneurial talents. It also emphasizes emotional intelligence, which includes the four key elements of self-awareness, self-management, social awareness and relationship management.
"People with emotional intelligence tend to be more successful, especially in management and leadership positions," Btaiche explains.
"Pharmacists have to interact daily with patients, which means that they need to acquire soft skills ― like compassion and empathy ― that allow them to deliver the information to the patient in the most adequate way," says Saad. "The interdisciplinary nature of the profession also requires that we prepare the students to be successful team members."
As another practical step, the course includes mock job interview sessions, allowing students to fine-tune their interview techniques. As the academic year was coming to an end, the school matched each one of the students, according to their interest, with a real employer, who had volunteered for the practice. The students were then requested to take all the necessary and usual steps they would for a real interview.
Fourth-year student Maya Nassar contacted the community pharmacist she was matched with, sent her CV and motivational letter, made an appointment, and went for the interview. Satisfied with the experience, Nassar took the opportunity to learn more from her counterpart on common situations faced in the setting. "The course allowed me to be really well prepared for the exercise and learn new skills, but most importantly gain confidence and basically discover myself," she says.