Raising awareness about sexual health
A Food 4 Thought speaking series hosted by LAU's Institute for Women's Studies in the Arab World (IWSAW) warns against far-reaching implications of evading sexual health issues.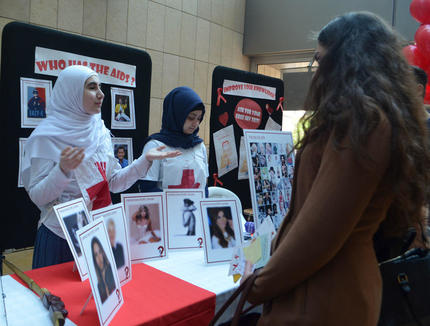 Sex education is almost non-existent in Lebanese schools, according to an article recently published on the website of satellite news channel Al Jazeera, which goes on to praise the brave efforts of medical students to spread awareness of sexual health issues.
Concerned about the lack of dialogue on the topic, LAU's Institute for Women's Studies in the Arab World (IWSAW) recently organized a Food 4 Thought and Q&A session titled "Smart SEX!" to discuss sexuality, contraception, and other frequently avoided but decisive sexual health issues.
The control and ownership over one's sexuality, and the practice of safe and smart sex are of vital importance. "One event isn't sufficient to address the depth and importance of this issue," said Lina Abirafeh, the director of IWSAW. She went on to explain that "in our culture, this topic tends to be discussed with a lot of embarrassment, drama, and restrictions, preventing young people from being comfortable with expressing their needs and rights."
Using the definition of smart sex as sexual activity based on equality, reciprocity, responsibility, risk reduction, and mutual respect, Clinical Assistant Professor at LAU's School of Pharmacy Ghada El Khoury, stressed that sexuality is a multidimensional concept related to psychological, spiritual, social, economic, political, and cultural aspects—not only to the physical.
El Khoury pointed out that the lack of information in Lebanon causes young people to turn to pornography or ask their friends, and this leaves the youth very vulnerable to coercion, abuse, exploitation, unwanted pregnancies, and sexually transmitted diseases. "Talking about sex gives us the opportunity to reflect on our own values. It doesn't mean we're inviting young people to engage in sexual activity," said the pharmacist, who bid everyone to communicate and approach sexual health in a positive and respectful manner.
"Sexually transmitted diseases (STDs) are a major public health concern nowadays," said Clinical Associate Professor Wissam Kabbara. He explained that although HIV is perhaps the most known infection, there are more than 30 microorganisms that can cause STDs, some treatable and others lifelong. "Youth between 15 and 24 years old are the most prone to these diseases because of lack of awareness and information," he said, adding, "In Lebanon, people avoid talking about sexual diseases or asking their physicians about preventive methods, tests or vaccines, all of which are available."
Indeed, sexual health services are available in Lebanon, but people are reluctant to reach out to them. "It is the stigma associated with sex that prevents people from accessing these services," said Sara Abu Zaki, a representative from Marsa. The sexual health center―located in Hamra―provides comprehensive and anonymous sexual health services, such as voluntary counseling, testing, and medical consultations with sexual health educators and experts.
Since sexual education was introduced in Lebanon in 1995 but quickly removed because of criticism from political and religious parties, centers like Marsa have become crucial to targeting the lack of information, research, and awareness on sexual health.
"This is a topic that should be dealt with seriously," said Karim Tuffaha, a finance student, "Not only because of its importance, but also because of its prevalence nowadays."
According to Abirafeh, "It is every educational institution's responsibility to talk about this. If we wait until university level to get the correct information, then it's already too late."
This event is part of IWSAW's Food for Thought speaking series.