Reading Romania
The Romanian embassy in Lebanon donates several books to Riyad Nassar Library.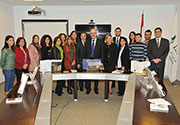 The collection of books donated is intended to offer "a glimpse" into life in Romania, Ambassador Tanase said.
Click on photo for larger version.
The Romanian embassy in Lebanon has made a generous book donation to LAU's Riyad Nassar library.
Ambassador Daniel Tanase visited the university on December 4 to formally present around 20 books in the English and Romanian languages. His visit coincided with Romanian Cultural Week, from December 2-12, and came just after Romanian National Day on December 1.
"On behalf of the entire LAU community, I would like to thank the Romanian embassy for their wonderful donation," said Nassib Nasr, assistant vice president for development. "Romania is a country very dear in the hearts of the Lebanese people, especially as so many of our students studied there."
At the meeting point of three regions - Central Europe, Eastern Europe and the Balkans - Romania has a fascinating heritage. With its multifaceted culture it has made significant contributions to the liberal arts, including such prominent figures as Herta Muller, winner of the 2009 Nobel Prize for Literature, painter Nicola Grigorescu, and Theater of the Absurd playwright Eugen Ionescu.
Among books donated by the embassy are "When Angels Sing: Poems and Prose" by Magda Isanos, "Modern Architecture and the Totalitarian Project: A Romanian Case Study" by Augustin Iaon, and several texts on sculpture, politics and history. The collection is intended to offer "a glimpse" into life in one of Europe's most populous countries, said Tanase.
"Our policy is to donate books to the most important libraries in Lebanon," said Tanase. "As one of the most important libraries and universities in the region, LAU is a symbol of the Lebanese higher education system."
Tanase added that the Romanian embassy would be "delighted" to host members of the LAU community at their offices in Baabda. "If anyone would like to find out more about Romania, please come and visit us," he said.
"LAU is very grateful to the Romanian people for their donation because we can't find books like these in bookstores," said Cendrella Habre, the university librarian. "It is a wonderful opportunity for our students to be exposed to different cultures in an increasingly globalized university setting."