Ready, Set, Program!
A record number of universities across the MENA region participate in this year's ACM Arab Collegiate Programming Contest at LAU Beirut.

As a team solves a problem, a balloon is tied around their workstation computer. By the end of the contest, the room was full of multi-colored balloons. 

Dr. Samer Habre (left), Dr. Faisal Abu-Khzam (second from left), and Dr. Ossama Ismail, ACM-ICPC World Finals Director 2011 (third from left), and Dr. Ziad Najem, former ACPC contest director (fourth from left), present the winning team from German University in Cairo with brand-new laptops at the awards dinner at the Riviera Hotel.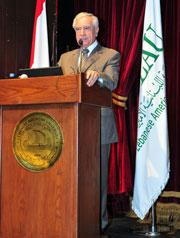 LAU President Dr. Joseph G. Jabbra speaks to the audience of contest participants, organizers and officials during the opening ceremony.


ACPC 2011 participants pose for a group photo outside Jeita Grotto.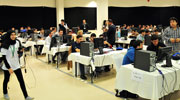 The contest gets underway in the Learning Resources Center as teams solve as many programming problems as they can. 
Click on any photo above to view all five images.
The crème de la crème of computer programming students from around the MENA region put months of practice into action during the 14th ACM Arab Collegiate Programming Contest, held November 27-29 at LAU Beirut.
Fifty-six teams from nearly 40 universities around the region competed for a top prize of brand-new laptops and the chance to continue on to this year's international contest in Poland.
The event's popularity has grown considerably in recent years, with this year's contest setting a record for number of teams admitted.
Dr. Faisal Abu-Khzam, associate professor of computer science at LAU Beirut and this year's contest site director, attributes this to rising regional awareness of the contest, adding that more and more countries have been organizing their own national versions.
"Last year, for instance, there were only two teams each from Jordan and Syria. Both have since organized their own national contests, and this year have sent us 11 teams each," he says.
Organized by the Department of Computer Science and Mathematics at LAU Beirut, the three-day event included recruitment presentations by major sponsors, technical and practice sessions, a trip to Jeita Grotto, and an awards dinner at Beirut's Riviera Hotel.
The actual contest took place on the final day. Teams of three students had five hours to solve as many of the ten programming problems correctly as possible. Coaches watched anxiously from the sidelines as their teams hunched over workstations spread over two floors of the Learning Resources Center (LRC). Nearly 30 student volunteers from LAU's computer science department helped monitor the event.
In the end, two teams solved six problems each while the rest solved five or less. The top five teams were from Egyptian universities, with German University of Cairo taking first place and Cairo University taking second and third places.
It was the second ACPC competition for third-year LAU computer science major Jad Baz. He prepared for the contest by attending regular algorithms sessions with Abu-Khzam and practicing on his own time with problems from previous contests.
"We tried not to get very stressed," says Baz. "Of course we were disappointed when we got wrong answers, but we kept our cool and didn't give up."
His team - called the LAU-Iterators - made up of Baz, Jad El-Chmaytilli, Mohamad Yassine, and coached by Abu-Khzam, managed to solve three problems and was on their way to the fourth. "We were proud of the final outcome, even more so of our teamwork and team spirit," says Baz.
Ali Anous, a second-year student at Tishreen University in Syria, says the opportunity to visit Beirut and participate in his first contest was "amazing."
"I hope to continue in this field and participate in many contests throughout university," he says.
The contest was sponsored by Consolidated Contracting Company (CCC), Facebook, Byblos Bank, Ayna Corp, Zakhem Engineering, and Quantech (which donated the three laptops for the first-place team), and organized under the high patronage of Dr. Hassan Diab, Minister of Education and Higher Education.
LAU Beirut played host for the second year in a row. According to Abu-Khzam, the decision to invite IT recruiters to give presentations reflects a concerted effort to turn the event into a premiere recruitment forum.

CCC and Facebook gave presentations about internship and employment opportunities. Facebook also administered a coding exam to around 100 contest participants.

"Preparation for the competition motivates our students to learn more and to excel," Abu-Khzam told the audience of participants, sponsors, officials, faculty and staff during the event's opening ceremony. "It is an opportunity for them to show what they can do, and gain visibility, especially among recruiters," he added.
LAU President Dr. Joseph G. Jabbra during the opening ceremony emphasized the importance of scientific curiosity in leading to important inventions, including the computer. "Don't forget to compete today," he said to the contest participants, "to promote the field and exhibit the talents our region has in the sciences."
Dr. Samer Habre, chairperson of the Department of Computer Science and Mathematics, agrees about the importance of exposure.
"I had many students from other countries approaching my colleagues and me to inquire about LAU's graduate programs," he says. "Indeed, we might well be seeing some of our competitors joining us here in the future."
Habre and his team of colleagues and student volunteers started planning for the contest back in August, booking hotel rooms and getting bags, pens and t-shirts branded. "The bulk of the work came in the two weeks leading up to the ACPC," he said, "and despite the challenges that come with organizing such a large event, it has been very successful."