Recruitment series kicks off with ICT industry presentation
A leading Lebanese IT consulting firm talks about trends in the ICT industry at LAU Byblos.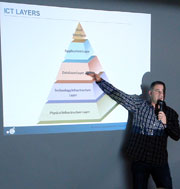 Adel Rizk from IT firm Edarat Group details the five main layers of ICT, during recruitment presentation at LAU.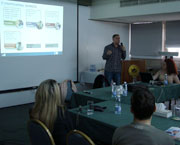 After providing an overview of ICT trends, Rizk offered students tips to succeed in the industry.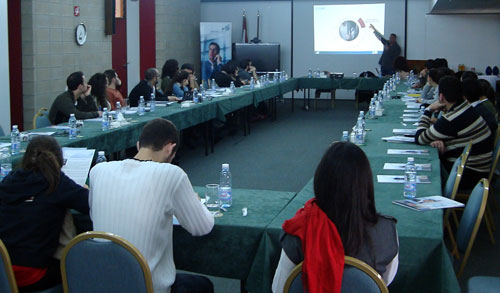 The presentation was the first in a series of recruitment events organized by the Byblos Guidance Office.
Click on any photo above to view all three images.
IT specialist Adel Rizk from Edarat Group, a major technology consulting firm based in Lebanon that operates in the region, gave a presentation on the latest trends in the information and communication technology industry, while advising students interested in the field on what steps to take to succeed in the industry, on February 19 at LAU Byblos.
Rizk, an engagement partner and head of data center engineering services at the company, offered an overview of Edarat Group's role throughout the region with ICT, while reminding the audience that technology never sits still.
"Technology is changing rapidly," said Rizk. "You have to keep abreast of the latest technology in your area of expertise. Today, you have to run faster just to stay in the same place."
Through decades of technological evolution that have brought us software, the personal computer, internet, audio and video networking, and today, complete data centers, Rizk explained how we have moved from the massive IBM mainframes of the 1950s.
Rizk, also an LAU graduate, spent a good portion of his presentation detailing the five main layers of ICT: user interface, application, database, technology infrastructure, and physical infrastructure — all of which are critical to allow businesses and organizations to function properly.
"Technology is not an option," he said. "It is important today to have a strategy and a technology infrastructure in place to suit the organization and improve the performance of its business."
Rizk encouraged students to continue studying for years after receiving their undergraduate degrees and advised them to seek jobs where they will gain the most experience — even if that means accepting a job with a lower salary because, as Rizk assured, it will pay off in the long run.
"You need to continue to learn for maybe 10 more years after you graduate [to succeed]," he said. "That's how competitive the job market is."
Responding to a question from the audience, Rizk said that students interested in applying for internships with Edarat Group can contact them through the company website.
The event was the first of a 12-part series organized by the Byblos Guidance Office for the spring semester to help students get an insider's view of the career options available to them after graduation.
"Edarat often contacts our office with job opportunities, so we decided to invite them," said Rana Sakr, career guidance officer in Byblos.
The Guidance Office has 11 more presentations from various companies scheduled for the coming weeks including from Bank Audi, Credit Libanais, AMIDEAST, and Procter & Gamble.
For more information about the upcoming presentations, contact Rana Sakr from the LAU Byblos Guidance Office, at: rana.sakr@lau.edu.lb.