Recycling AC water
LAU student Oudey Hamadeh pioneers a solution to Arab world water shortages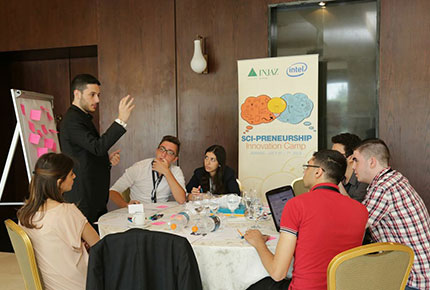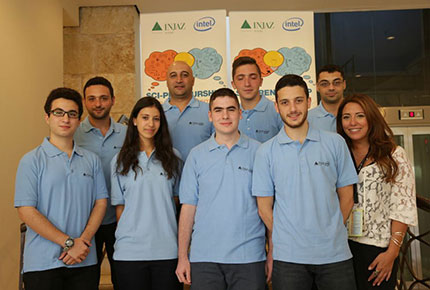 In 1985, former United Nations Secretary-General Dr. Boutros Boutros Ghali cautioned that "the next war in the Middle East will be fought over water, not politics." Almost thirty years later, his warning is more prescient than ever, with the threat of water wars spreading across the globe.
About 97 percent of the world's water is salt water and less than one percent of the remaining three percent of drinkable water is readily available for human use. In the Middle East and Africa, two of the world's most water scarce regions, fresh-water availability is expected to fall a staggering 50 percent by 2050, according to the UN's Food and Agriculture Organization.
In the face of such a bleak future, one LAU student has discovered a simple way to conserve the blue gold by using waste-water from air conditioners.
Oudey Hamadeh, an international business student, has teamed up with five other Lebanese students to launch a product that will capture condensed water from AC units. "Instead of the compressor throwing away the water, our design uses a pipe to collect it. The water is then cleaned and stored in a tank, from which it can be reused by households," says Hamadeh. The water is clean enough to be used straight out of the taps. Hamadeh hopes it will revolutionize regional approaches to water conservation, as well as take away some of the guilt of using ACs.
The idea, named Re-H20, was part of a project Hamadeh and his colleagues designed at Intel and Injaz al-Arab's Sci-preneurship Innovation Camp last July. The camp, which is held annually by Intel and Injaz al-Arab, mentors students in science, business and entrepreneurship.
Students from Jordan, Egypt, Saudi, Lebanon, Morocco and Palestine met in Amman to compete for the best way to solving water shortages. Lebanon's team, comprised of Hamadeh, Abed Sherkawi, David Kors, Radwan Othman, Omar Itani, and Nisrine Hammoud, had 48 hours to come up with an idea. Since winning, they have gone on to establish a company to roll-out the design. Hamadeh has used his business skills to undertake marketing and feasibility research, and says Re-H20 will primarily be marketed to the Gulf.
For anyone doubting how much water can be conserved from recycling AC water, Hamadeh has a shocking statistic. "In Saudi Arabia alone, the reuse of water from air conditioners every year would give Lebanon, Jordan and Syria enough water for one year," he claims.
The last few months have been an incredible learning experience for Hamadeh and his team. "Nothing comes easy, but even under very difficult circumstances, you can achieve success," he says. "Never stop trying." World leaders should take note.