Redesigning the Athénée Theater
LAU architecture students vie to redesign the children's theater in Jounieh in a competition sponsored by the George N. Frem Foundation.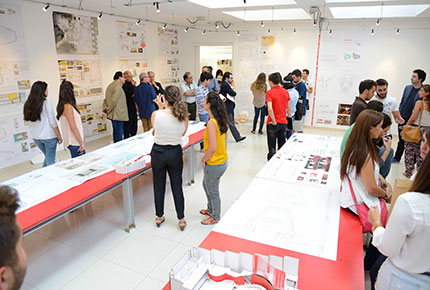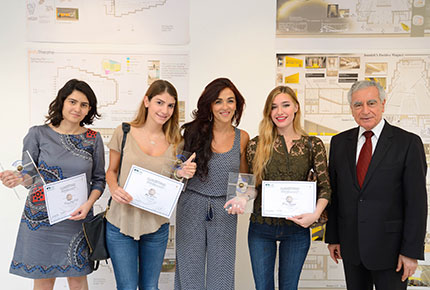 With full support from Dean Elie Haddad, LAU's School of Architecture and Design joined hands with the Georges N. Frem Foundation to give students a chance to redesign the Athénée Theater in Jounieh (TAJ).
The young designers were presented with the challenge of creating an innovative design that is both practical and eco-friendly. With help from their professors – Dr. Nada Khoury, Ghida el Zein, Faten Kikano and Gilbert Slaiby – an initial 65 students came up with proposals. The competition was integrated into the curriculum of the Interior Design VI course and took place during the spring semester at LAU Beirut.
Winners were announced on July 10. A USD2,000 cash prize was given to the competition winner, with USD1,000 and USD500 going to the second and third places respectively.
For first-place winner Joy Gosen, the experience was challenging and highly rewarding. "Hearing my name being called was probably the best day of my life," she enthuses. "I worked really hard this semester making my project applicable for the TAJ competition and thankfully all those late nights paid off."
Gosen's design caught the attention of the judges for its ability to cater to people with special needs. "No theatre in Lebanon offers access to people who suffer from different types of disabilities, so my vision was to accommodate all types of special needs – handicap, sight or hearing impairment, Down Syndrome – into one space while keeping an innovative – though minimalistic – design," she says.
"LAU's students really impressed us. We were honored that they put so much effort into the competition," says Alia Fawaz, project manager at the Georges N. Frem Foundation, an NGO who promotes various educational, agricultural and economic programs in Lebanon. "To get a feel of the premises and greater understanding of the spectator's point-of-view, the students made several site visits and even watched a live performance." Fawaz adds, "They were all highly committed."
According to Pierre Hage-Boutros, associate chair of the Department of Architecture and Interior Design, the initiative is in line with the department's ongoing determination to reach out to the community. "The competition provided our students with an opportunity to address stakeholders' requirements, to tackle design aimed at the specific user group—a child audience—but most importantly to explore the kind of relations needed to engage children into the realm of culture," he explained.
"We were very excited to view so many innovative designs for the theater, and it was a real challenge for the jury to select the three finalists," said Rania Frem-Khoury, CEO of George N. Frem Foundation. The winning students will see their designs implemented with the theater renovation works scheduled for 2015.
"Serving the community is a value that we instill in our students and we hope to embark on similar projects where students are empowered to undertake existing venues and propose complete refurbishment," declared LAU President Joseph G. Jabbra at the awards ceremony.
The Theatre Athénée, Jounieh is a children's theater established by the Georges N. Frem Foundation in 2003. According to the organization, the primary purpose of this theater is to disseminate values of civic education, family principles, national belonging and appreciation of the arts to children, families and the community at large. It regularly hosts children's productions along with other types of plays and has a thriving after-school theatre workshop for children and teenagers (L'Atelier de Théatre). For more: http://www.georgesnfrem.org/education/5/Theatre%20Athenee%20Jounieh