Regional minorities and their many challenges
LAU professors offer a historical, socio-economic and political breakdown of the challenges faced by native Middle Eastern minority communities.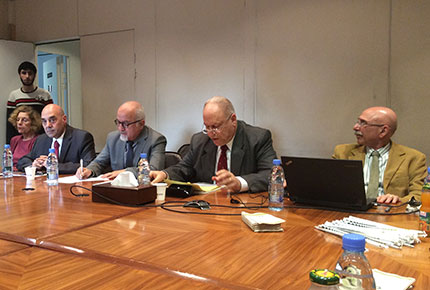 "Lebanon is a nation of minorities, and this topic is very timely indeed now," said Vahid Behmardi, associate professor at the Department of Humanities, while introducing a panel discussion about native Middle Eastern minorities and the challenges they face.
"The concept of minorities only came into being in this region in 1923, as a result of the punitive treaties enforced by the allies after the first world war, which saw nations divided," explained Selim Deringil, one of three LAU panelists who presented diverse papers to an audience of students, academics and guests.
Deringil, a professor of history, presented an overview of the treatment and political disparity Armenians and Greeks faced in his native Turkey over the past century. Forced migration and population swaps with neighboring Christian countries, a process Deringil calls "peaceful ethnic cleansing", led to a drastic reduction in the Christian population of Turkey.
Arab countries have also seen their Christian population decline in recent years. "The region's Christian population has dwindled from 12-15 million before the unfortunately named Arab Spring to between 10 and 12 million now," said associate professor of history Habib Malik at the start of a presentation during which he outlined historical experiences of Christians under Islamic rule.
According to Malik, the vast majority lived under a system of dhimmitude, whereby non-Muslims were subjected to different laws or treatment. "Dhimmitude is not tolerance. Christians were second-class citizens facing a system of liquidation. This is the bulk of the Christian experience in this region," he said .
The Christians of Lebanon have however historically experienced more freedoms, he added, but "it required sacrifice of blood and professions." The unique position of Christians in Lebanon was the focus of the presentation by Sami Baroudi, professor of political science. "Maronites have been central to the making and unmaking of governments," he explained, adding however that their influence has been waning since 1943, for a number of reasons.
"Arab nationalism gave Muslims political strength, as did the expulsion of the PLO from Jordan into Lebanon. The civil war and the Syrian presence in Lebanon also played a role," said Baroudi of some of the events that have slowly been stripping Maronites of their political might. "Urbanization and improved social and economic standing of Muslim communities has also lessened the disparity between the Christian and Muslim populations in the country."
The main topic of discussion, and contention, was whether Lebanon would be better served by adopting a federal system, a proposal suggested by Malik during his presentation. "It seems obvious to me that accepting the given, that we are a nation of multiple sects, and considering the current security situation, that Lebanon should develop a federal system that suits its own circumstances," he said, arguing that the system was not incompatible with unification but rather "incompatible only with a unitary state of enforced heterogeneousness."