Remarkable resilience: Lebanon's economy and the Syrian crisis
LAU hosts the launch of the World Bank's "Lebanese Economic Monitor."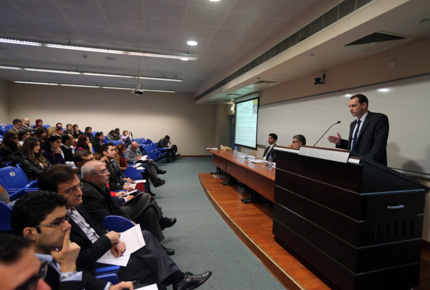 The return to potential output growth in Lebanon hinges critically on a resolution of the conflict in Syria as well as on a marked improvement in the security and political situations in Lebanon, said Wissam Harake, country economist at the World Bank. "The economy is projected to grow by 2 percent in 2015 on the condition that current domestic and regional tensions abate," he said.
Harake's remarks came during the World Bank's launch of the "Lebanese Economic Monitor" (LEM) for fall 2014, hosted at LAU on December 15 by the Department of Economics. Dubbed "A Midyear Mount," the LEM provides an update on key economic developments and policies in Lebanon over the past three years.
Harake said that the study shows how all kinds of activities picked up during the summer, coinciding with improvements in the security situation. "The adoption of the successful security plan in Tripoli and the formation of a new government led to a slight improvement in the economic situation," he explained.
Tourist arrivals recorded a rise of 4.2 percent in the period from January to September 2014, according to Harake. As for construction permits, they saw an increase by 8.4 percent, while the consumer confidence index rose by 20 percent for the same period.
"High frequency data suggest that tourism, commerce and real estate — all of which contracted sharply during the past three years — underwent a mild rebound during the relatively stable spring and summer, marginally boosting growth," said the study. The World Bank forecast real GDP to grow by 1.5 percent in 2014, an improvement over 2013, which, at 0.9 percent, registered as the worst performance since 1999.
LAU professor and Chairperson of the Department of Economics Ghassan Dibeh challenged the view that the Syrian conflict has had exclusively negative repercussions on the Lebanese economy. "Capital inflows from Syria have increased as a result of the crisis and the spending by international organizations on education, health, transportation and food has been remarkable as well," he said.
According to the LEM, deposit transfers and international aid helped short-term capital flow to almost double in 2013, reaching an estimated $3 billion and projected to further rise this year.
Prior to the conflict, Lebanon hosted hundreds of thousands of Syrian workers in Lebanon but they used to send their money to their homeland. However, "now people should not complain like before since Syrians are spending their money in Lebanon," said Dibeh.
Eric Le Borgne, lead economist at the World Bank, said that in December the Lebanese government asked the organization to create a multi-donor trust fund as a financing mechanism to palliate some of the impact of the Syrian conflict on Lebanon. "The funds we have received so far are limited, and they amount to $75 million mostly from European countries," he added, specifying that "They will be spent on providing municipal services, waste water, education and health projects."