Renowned American stage actress gets candid with students
Award-winning actress Kathleen Chalfant puts on a workshop at LAU Beirut for aspiring actors, directors and producers from LAU and AUB.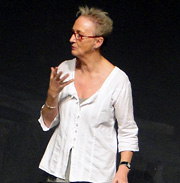 Renowned American stage actress Kathleen Chalfant gives a workshop for LAU and AUB students at LAU Beirut's Irwin Theatre.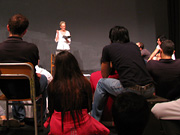 Chalfant reprises her award-winning role of Vivian Bearing, a terminally ill cancer patient, from the play Wit.
Kathleen Chalfant stands on the edge of the stage with her back to the chairs in LAU Beirut's Irwin Theatre. She faces a large circle of LAU and AUB students who are clearly engrossed by her strong presence.
The renowned American stage actress begins reading a monologue in a spot-on Russian accent, gesticulating with her arms. She finishes to a robust applause and takes questions from the crowd of about 70, sitting on stools and the stage floor.
"How do you transform into these diverse characters and make them so believable?" asks one student.
"If you believe it's true, you can do it," answers Chalfant. "You become the part by an act of will. In acting, people believe what you tell them."
Chalfant spent the afternoon of December 1 conducting an acting workshop for LAU communication arts students and AUB students taking drama and English literature courses.
Chalfant, 65, is a veteran of the American theater world. She is best known for her role in Tony Kushner's Angels in America: Millennium Approaches, for which she received a nomination for Broadway's 1993 Tony Award as Best Actress (Featured Role - Play).
She has won numerous acting awards, including the Outer Critics, Drama Desk, Obie and Lucille Lortel awards for her heartrending performance in Margaret Edson's Wit, a play where Chalfant shaved her head for three years for the role of terminally ill cancer patient Vivian Bearing.
After a Q&A session at the workshop, Chalfant read a scene from Wit, giving the students a glimpse into her award-winning character.
Afterwards, a student asked if Chalfant had learned a life lesson from or had a connection with any of the characters she had played. It turned out Vivian Bearing's circumstances were very true to life for Chalfant. During her three-year stint as Bearing, her brother was terminally ill with cancer and passed away in 1998.
"I learned from him what it was like to die, and to decide the time had come to let go," Chalfant told the audience. "There is always some part of you at the center of every role. You can't make a work of art without having some control."
Before reading one final monologue from the play A Delicate Balance, Chalfant took a few more questions. One student asked if it was difficult to switch from theater to acting in movies.
"Acting in movies is easy, is fun," Chalfant replied. "You only need to learn the lines for one-and-a-half minutes and have the luxury of repeating them to get it right. In movies, someone else decides what the audience will look at. … In theater, you're responsible for the entire event, whether it sinks or swims."
The workshop was organized by the Department of Communication Arts and the office of Student Development and Enrollment Management at LAU, in collaboration with The Prince Alwaleed Bin Talal Bin Abdulaziz Alsaud Center for American Studies and Research (CASAR) at AUB.
Personal connections with Dr. Elise Salem, SDEM vice president; Dr. Mona Knio, associate professor of theater and the chairperson of the Communication Arts Department; and Dr. Robert Myers from the English Department at AUB, brought Chalfant to the Beirut campus.
"The main purpose [of Chalfant's visit] was to expose the students to the acting techniques and experience of a prominent stage actress," says Hala Masri, theater coordinator at LAU's Department of Communication Arts. "It was also a cultural activity for LAU and AUB students."