Renowned photographer kicks off alumni lecture series
LAU graduate Hayat Karanouh meets with photography students, marking the beginning of a series of events to engage students with successful alumni.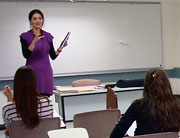 Photographer Hayat Karanouh, an LAU grad, was a guest lecturer during a course taught by photography instructor Bassam Lahoud (in red). This was the first of a lecture series organized by the Alumni Relations Office.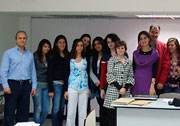 Lahoud, his students, along with Abdallah Al Khal (1st from left), director of Alumni Relations, and Ghada Majed (8th from left), assistant director of Alumni Relations, pose with Karanouh.
Distinguished photographer and LAU graduate (1996) Hayat Karanouh encouraged photography students to follow their passions during a guest lecture in a course taught by Bassam Lahoud, her former instructor, on March 30.
"When you work with your heart, you come across a lot of surprises," Karanouh told the class of about 20, as she explained how she decided to pursue a photography career despite her academic background in international economics and advertising design. "I turned my passion into my work," she added.
The event marked the beginning of a long-term series of visits by notable LAU graduates, organized by the Alumni Relations Office.
According to Ghada Majed, assistant director of alumni relations, the series was designed with an objective of allowing students to meet with and benefit from the experiences and expertise of prominent alumni.
The office is working closely with faculty members and various department heads to secure spots for the alumni during class hours.
"What we are trying to do at the Alumni Relations Office is bring back our very successful alumni to share their experiences and help you later on in your futures," Majed — who attended university with Karanouh — told the students during a Q&A session.
Karanouh brought along several photography books she has published over the years. In 2001, she published Et le Sourire Survit (And the Smile Survives) with dozens of photos of South Lebanon shot after the Israeli withdrawal from the area in 2000.
Other books she has published include La Passion de Lire (The Passion for Reading), La Passion de Football (The Passion for Football), and most recently La Passion de Khalil Gibran (The Passion for Khalil Gibran), which features photographs that try to capture the essence of the poems from Gibran's The Prophet.
Currently based in Beirut, Karanouh has shot photos across the world and spent a significant amount of time working in New York, France and Spain.
"I work with what's happening around me," Karanouh said, after a student asked how she comes up with ideas for projects.