Reporting women
IWSAW teams up with Thomson Reuters Foundation for a workshop on how to better report women's issues in the media.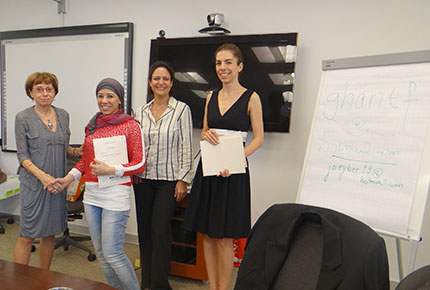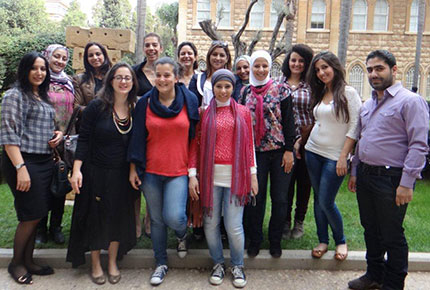 If you type the words "women should" into Google, you're likely to find some unsettling answers that demonstrate just how widespread gender bias still is. The following are only a few examples of suggested answers from the month of November, based on popular searches by other Internet users: "Women should not work, women should serve men, women should not be in combat, women should not preach." Unfortunately, Google searches in Arabic deliver similar results.
It is precisely because of such prevalent views that journalists must redouble their efforts to advocate the human rights of women, say Ghaida Ghantous and Joelle Bassoul, two trainers from the Thomson Reuters Foundation. They were at LAU to lead a weeklong journalism workshop, made possible by the Institute for Women's Studies in the Arab World (IWSAW), on how to strengthen Arabic-language reporting on women. Some twelve journalists - both men and women - from across the Arab world participated in the training, entitled "Reporting Women," which kicked off on October 28.
"The aim of the program is to reform the way women are reported about in the news," says Ghantous. "The training is also meant to empower women reporters and boost their self-confidence in what remains a very male dominated field."
"The workshop is part of several ongoing development projects at IWSAW intended to improve the status of Arab women," stresses the institute's associate director, Anita Nassar. Adding, "Our goal is to create a solid platform to support activists and advocates in their campaigning on women's rights, be it in the field of finance, health or journalism."
Ghantous and Bassoul took turns to tackle important issues currently facing women in the Arab world, such as the marginalization of women from politics in post-Arab Spring Egypt, women in the Syrian opposition movement and the sexual exploitation of female refugees. "There are ample opportunities for journalists to highlight rights abuses," points out Bassoul, adding that such reporting must be ethical, informative and engaging. The trainers shared their own experiences as reporters in the Arab world and emphasized that reporting about women was something that both men and women should do.
Myrna Nasser Eddine, a Lebanese journalist working with Naharnet, said she'd been eager to attend the workshop from the moment she saw the application invitation. "We all need to learn about women's empowerment, particularly in the Arab region. It's a time of change and women's rights are an important topic. The workshop will help me in my reporting, as a woman and a journalist wanting to make a difference in the way women's stories are told."
On the final day of the workshop, participants were able to talk to women who had been empowered and those whose story needed to be told. They visited Amel Association to meet women refugees and also met with female prisoners working as bag designers for the high-end bag company Sarah's Bags.