Responsible business practices
School of Business students actively participate in the third CSR Lebanon forum.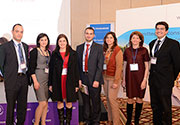 "Universities are often looked upon to take a leadership role within societies and to lead by example," says Dr. Maya Farah about LAU's participation in the event.
Click on photo for larger version.
A group of students from the School of Business partook in a two-day networking event entitled "Corporate Social Responsibility (CSR) in Times of Uncertainty" on March 18-19 at the Phoenicia InterContinental Hotel in Beirut.
The forum, in its third edition, was organized by CSR Lebanon, an independent consulting firm, which was recently appointed as Lebanon's official point-of-contact for the United Nations Global Contact (UNGC). Held under the high patronage of the Lebanese President General Michel Sleiman, the event was attended by a total of 30 international, regional and local experts, and highlighted the importance of CSR in addressing the challenges modern business challenges.
"CSR is recognized to be a voluntary approach that a business enterprise takes to meet or exceed stakeholder expectations by integrating social, ethical, and environmental concerns into its core business objectives," said CSR Lebanon founder Khaled Kassar. "Through its partnership with UNGC, CSR Lebanon aims to promote responsible business practices and transparent CSR reporting," he added.
LAU was one of the main universities that actively participated in the forum. Led by Dr. Maya Farah, assistant professor of marketing at the School of Business, M.B.A students Hassan Badran, Jad Madina, Mohamad Hindi, Nadim Saliba, Rayane El Dirany, Safaa Jawad, and Zeina Sidani participated in a round table discussion with Georg Kell, United Nations Global Compact executive director, and Ibrahim Al-Zu'bi, the head of CSR at Majid Al Futtaim Properties, who has a long experience in sustainability and CSR. This event was a golden opportunity for the students to be critical thinkers and learners in a highly challenging and constructive setting.
"I highly urge business leaders and officials to cooperate with young entrepreneurs in order to lay the foundations for a local network that promotes responsible business practices," said Kell, addressing the students.
"Indeed, participating in such an event made me — a student and future leader — recognize the need for such responsible actions in our region," said student Nadim Saliba.
At the heart of the discussion was the role of corporations in promoting environmental sustainability and responsible business practices, particularly when it comes to investment in conflict-affected areas. Though Lebanon is slowly integrating CSR into its corporate culture, the country still lags behind many of its MENA peers, particularly with regards to transparent reporting and raising awareness.
"We learned things that could surely not be taught in classrooms," Saliba said before adding, "We need to implement such environmentally responsible actions in our region. If it's the right thing, we have to do it, even if it costs more."‬
According to Farah LAU's participation in the forum allowed students to acquire and share knowledge — among practitioners and youth — about sustainability and the importance of CSR not only throughout the Middle East, but also globally.
"Universities are often looked upon to take a leadership role within societies and to lead by example."