Rethinking paradigms on Arab autonomy
Scholars discuss evolving academic discourse on the Arab Spring during a videoconference between the University of Turin, Italy and both LAU campuses.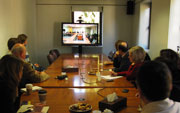 LAU faculty from both campuses meet with conference participants in Italy via videoconference.
Hot on the heels of the Egyptian revolution's first anniversary, LAU's Social Sciences and Humanities faculty convened on February 2 to debate Lebanese and European outlooks on the nominal Arab Spring.
Dr. Tamirace Fakhoury, assistant professor in the Department of Social Sciences at LAU Byblos, moderated the intercampus videoconference. "The idea behind the discussion was to rethink how the Arab uprisings have changed our lines of inquiry vis-a-vis the Middle East and the Arab world, in academia, pedagogy, and policy-making," she says.
The panel also included Dr. Habib Malik, associate professor of history and cultural studies; Dr. Walid Mubarak, associate professor of political science and director of LAU's Institute of Diplomacy and Conflict Transformation; Dr. Makram Ouaiss, assistant professor of political science and international affairs and chair of the Department of Social Sciences; Dr. Marwan Rowayheb, assistant professor of political science and international affairs; and Dr. Jennifer Skulte-Ouaiss, assistant professor of political science and international affairs.
Fakhoury invited Dr. Rosita Di Peri, from the University of Turin, to address potential European involvement. "I wanted to look at how neighboring EU members states could help us to sustain bottom-up democratization movements without interfering or dictating norms or behaviors," Fakhoury says.
Di Peri problematized the European tendency to apply restricted, Western-centric historical models that obscure regional specificities. The Italian professor referenced dubious media rhetoric, which correlated unfolding uprisings with instability and denied the constructive potential of popular resistance in the Middle East. "It is necessary to rethink paradigms," she urged.
Fakhoury says recent upheavals surprised scholars by overturning the prevailing paradigm of authoritarian endurance. "For decades, the Arab world was considered a zone of exceptionalism in terms of democratization, so there was a reluctance to discuss the democratic transition paradigm," she explains.
Recent academic discourse advances alternative analytic tools, including studies of contentious politics, revolutions, and social movements. "This could enable us to really understand the confluence of factors that made [the uprisings] happen, remaining at a descriptive level before lapsing into judgments or paradigms," says Fakhoury.
Faculty members probed Lebanon's current stability, agreeing that conscious insight into local social and political dynamics is crucial in anticipating potential reverberations of upheaval. "We need to be very aware as academics right now," said Fakhoury. "We really need to read between the lines."
The bulk of participants concurred that Lebanon should be more involved in surrounding democratic transitions. "We have a role to play here," said Mubarak, noting Lebanon's distinguishing degree of freedom, pluralism and consensus politics. "While influenced by the outside, the mechanics of future transitions will ultimately be led from inside the region," he added.
Mubarak pointed to a misguided emphasis on democratic forms, namely campaigns, elections, and majority rule, in assessments of new developments. He advocated renewed focus on the "substance of democracy," embodied in freedom, human rights, rule of law, and minority rights.
"Revolution is not only about politics, but also about social change," agreed Skulte-Ouaiss.
Makram Ouaiss encouraged external actors to invest in civil society and regional human rights organizations, as financial support could preempt democratic disenchantment and backtracking to authoritarianism. Poor global economic conditions and continued Western support for non-democratic, oil-rich states compound the shortfall in regional "self-confidence, democratic experience and know-how," he said.
The fruitful debate may set a precedent for exchanging ideas between Byblos and Beirut. "I hope this can spearhead such high-level discussion, and that we can have future cross-campus discussions on various themes," said Skulte-Ouaiss.