Rich and entertaining, political masterpiece enjoys standing ovation opening night
Three historical political figures of the Palestinian resistance are brought together on stage by LAU faculty, students and graduates, for the first time since 1971.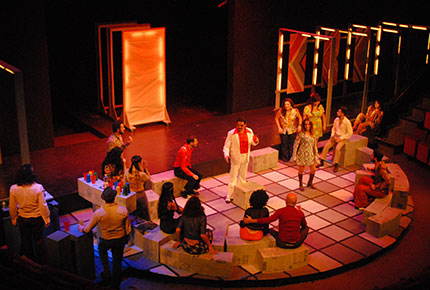 What do founder of the Syrian Social Nationalist Party Antoun Saadeh, murdered leader of the Lebanese communist party Farajallah al-Helou and convicted assassin of Senator Robert – "Bobby" – Kennedy Sirhan Sirhan have in common? All three were advocates of the Palestinian struggle whose beliefs drove them to face death.
"People these days sit behind their computers tweeting and think they're activists, or take no interest and just watch as Lebanon is surrounded by garbage and corruption," says thespian Lina Khoury, explaining her motivation for staging a 1971 play in which Saadeh, Helou and Sirhan, brought to life by three LAU alumni, take center stage.
Made up mostly of LAU graduates and students, a 19-person cast participated in the first performance of Issam Mahfouz's play 'Limaza' since its opening run in Beirut in 1971. Renowned poet and playwright Mahfouz, who died ten years ago, was among the first to write plays in dialect, taking Arabic theatre away from the formal toward the modern.
The format of the play – set in a nightclub where stoned party-goers act out the lives of fallen resistance fighters – was certainly avant-garde, written to reflect, and perhaps engage, apolitical Arabs during the 'overwhelming Arab Coma' that followed the 1967 defeat and that many say persists to this day.
"It's imperative that our students know the work of great Lebanese playwrights, among them Mahfouz," says Khoury, the play's director, who teaches part of a recently launched course entitled Lebanese Musical Theatre and Song. "I found that few are familiar with Lebanese theatre which further motivated me to select this work as this year's major theatre production."
A successful undertaking, preparation of the production began on the first day of the fall semester. "It's a challenging piece to stage, and the characters are from a bygone era, so I wasn't sure how the audience would react," admits Khoury. The response was visibly positive, with the cast and crew receiving a standing ovation opening night, and rightly so. The set, the wardrobe, the music and the lighting all complemented the quality of the script, delivered convincingly by all cast members. The accents of the Syrian officers who tortured and killed Helou and that of Palestinian émigré Sirhan were also remarkably authentic.
Sirhan was sentenced to death in the U.S. for the assassination of Kennedy in 1969, but had his sentence commuted in 1972 to life in prison. Now 71 years old, he was only five when Saadeh, better known as Alzaeem (the leader), was put on trial and executed by firing squad within the space of 48 hours in his native Lebanon in 1949. Ten years later, Helou, who found it difficult to reconcile his communist beliefs with the Soviet Union's recognition of the State of Israel, was tortured in Damascus by Syrian forces and his body dissolved in sulfuric acid.
Each man walked a different path: one killer, two killed; one communist, another socialist, the third seemingly non-partisan but lost in rage. Sirhan resented America's support of Israel and blamed it for his family's expulsion from Palestine in 1948. However, as explained by the MC of an evening held at Mahfouz's Stereo 71 nightclub, Alzaeem had written decades earlier– in the 1920s – that the blame would fall on the Arabs should the planned establishment of the State of Israel succeed.
The one-hour play packs in moral and philosophical questions alongside great humor and is a must-see for all Arab speakers who seek either political enlightenment or a night of great quality entertainment.
Performances of Mahfouz's Limaza begin at 8.30 a.m. every night between 24 and 28 November inclusive.