Rich nation, poor nation
LAU hosts a presentation by Harvard University professor James Robinson, co-author of the recent book Why Nations Fail: The Origins of Power, Prosperity and Poverty.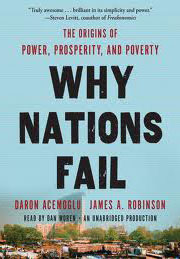 Why Nations Fail ranked third in the top five books recommended by Foreign Policy's Global Thinkers.
On January 16, LAU hosted a presentation by distinguished Harvard University professor Dr. James Robinson, co-author of the recent book Why Nations Fail: The Origins of Power, Prosperity and Poverty.
"The inequality we see in the world is not predestined—it is simply a result of weak institutions," Robinson explained to a room brimming with eager students and faculty members. He and Why Nations Fail co-author, Dr. Daron Acemoglu of the Massachusetts Institute of Technology contend that the poverty of nations cannot be adequately explained by resorting to arguments of culture, geography, or harsh weather patterns.
Based on fifteen years of original research, Why Nations Fail is a thorough historical examination of the ever-widening gap between wealthy and impoverished countries.
The book has garnered enormous praise and has been deemed by Foreign Policy magazine as one of the most influential books of recent times and has been read by much of the world's top political elite. "This book is of utmost importance, particularly in light of the drastic changes that have occurred in the Arab world in recent years," enthused Dr. Sami Baroudi, assistant provost for faculty affairs, and a professor of political science.
Putting aside sweeping generalizations, Robinson explained that incentives are the key to generating sustainable and sound institutions which reward innovation and promote creative thinking. "Economic success is driven by inclusiveness—a broad distribution of power—and a powerful, centralized state," he explained.
The presentation was followed by a lively question-and-answer period whereby Robinson was prompted to offer something of a political forecast of the future of the Arab Spring.
Focusing on the case of Egypt, Robinson responded: "The experience of colonialism derailed much of Egyptian economic progress, and the consequences can still be felt today," before adding, "Unless the new Egyptian political elite establish an inclusive state which distributes rewards and incentives broadly, the Egyptian project will not be able to sustain itself."
Chair of the Department of Social Sciences Dr. Makram Ouaiss moderated the event and discussed the importance of LAU's global outlook: "It is important for our department to expose students to top-notch scholars from around the world, and allow avenues for exchange of knowledge," explained Ouaiss. "Here at LAU we make every effort to expand our global reach," he added.
And this effort did not go unnoticed among the students in attendance. "I am grateful to have been able to attend such a world-class event," said international SINARC student Camille Jagueneau.

James A. Robinson is a political scientist, economist, and David Florence Professor of Government at Harvard University. An expert on Latin America and Africa, Robinson is currently doing research in the Democratic Republic of the Congo, Sierra Leone, Haiti, and Columbia.