Riding the wave of digital change
LAU design and journalism students train in web documentary making with the producers of Al Jazeera's award winning "Lives on Hold."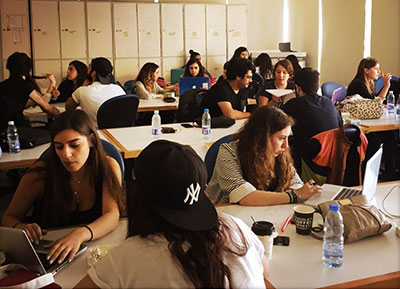 The traditional divide between print and broadcast is anachronistic in today's digital era. Technology is opening up new possibilities in journalistic expression, where the audience engages in the story to an unprecedented extent.
"Journalism is not about creating a linear story anymore," said Monika Halkort, assistant professor at LAU's Department of Communication Arts. "We are creating a unique experience that is often the product of a collaboration between an interdisciplinary team."
Indeed, LAU is dedicated to forming professionals who are fully aware of the new possibilities in the domain of communication and possess the necessary skills to make the most of them. By the same token, LAU is offering a B.A. in Multimedia Journalism that specifically trains students in the new media landscape.
Within that framework and in collaboration with the Department of Design, on April 14-15, the Montreal-based interactive firm KNgFU conducted a two-day workshop on digital storytelling and presented its web documentary Lives on Hold, in collaboration with Al Jazeera.
The project, which highlights the plight of ten displaced Syrians fleeing the conflict in their country, grew from the joint effort of designers Ghassan Fayad and Ralph Dfouni, KNgFU, and producers Reem Haddad (Al Jazeera) and Abir Hachem (Solo Films).
Far from being a simple collection of videos, the platform presents a number of features curated in such a way as to make the viewer interact with the story on a whole new level. Sound environment captured on location plunges the viewer into a real-life setting, while user-generated content allows two-way interactions.
"We started thinking about how we could use the web to tell a story in a way that TV cannot," said Reem Haddad during the discussion that preceded the workshop. The idea of a web documentary, she explained, was inspired by a compulsion to represent the stories of refugees while at the same time doing justice to their real-life experiences.
Taking this interactive platform as a model and learning the steps behind its realization, design and journalism students worked in teams to come up with new ways of narrating a story on the theme of the disappeared during Lebanon's civil war.
"These students do not lack the urge to express themselves," said Lebanese-born Fayad, president of KNgFU. "Our goal in this workshop is to inspire them to think of new ways of telling their stories."
Each idea was elaborated with the help of Fayad and Dfouni, and then submitted to Al Jazeera and Solo Films producers for evaluation.
"This experience is teaching me how to approach, research and devise a story," said Ghassan Bathish, a design student who aims, in his senior project, to revive his grandfather's time as a combatant in WWII. "I want to use graphic design as a tool for social change, to keep the memory of the past alive so that history does not repeat itself."