Robotics expert gives LAU students a glimpse of the future
Dr. Roland Menassa, an engineer at General Motors Corporation, highlights the car industry's evolution and the latest developments in human-centered robotics.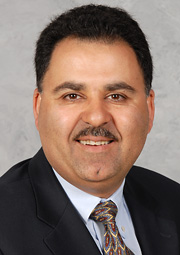 Dr. Roland Menassa of the Manufacturing Systems Research Lab at General Motors in Michigan, presented a lecture about robotics at LAU Byblos, April 11.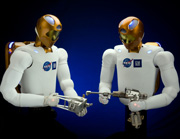 Dexterous robots R2A and R2B, a collaborative project between GM and NASA. (Source: GM)
Autonomous robots working alongside humans on the factory floor — it's not a science fiction movie, it's the future of manufacturing systems, according to Dr. Roland Menassa, who gave a lecture at LAU Byblos on April 11.
Menassa, who was born and raised in Lebanon, is a technical research fellow and lab group manager in the Manufacturing Systems Research Lab at General Motors Corporation in Michigan, United States.
Titled "Human-centered Robotics for Manufacturing Systems," the lecture was attended by engineering students, faculty and administrators.
After providing an overview of the automobile industry's evolution, Menassa moved on to the latest developments in the field of human-centered robotics, which "relies on the use of dexterous and autonomous robotic assistants collaborating directly with human operators in assembly tasks," according to the presentation's abstract.
He highlighted the creation of Robonaut2, billed as "the next generation's dexterous robot." R2 is the result of collaboration between Menassa's division at GM and the National Aeronautics and Space Administration (NASA).
R2 has 350 censors, stereo high-resolution camera vision, and an aluminum body. Its fingers operate just like human tendons, with 42 degrees of freedom of motion.
Menassa impressed the audience with videos of R2 at work, completing ordinary human tasks in the test room.
On February 24, R2 garnered further fame when it became the first humanoid robot launched into space.
R2 is an upper-body robot, which distinguishes it from some of its bipedal, walking Japanese cousins manufactured by Toyota and Honda.
According to Menassa, walking and talking are "irrelevant" capacities for robots used in manufacturing systems. "The next generation of manufacturing will be enabled not by humanoid robots," he said, "but by robots with humanoid capability."
In other words, Menassa's GM team and NASA are focusing on physical dexterity and social interaction — which includes human-like cues and communication modalities — rather than on superficial resemblance to human form.
Menassa outlined a qualitative framework to achieve this vision based on four intellectual goals: object identification, language understanding, dexterity, and social understanding.
"Our vision is that in the future autonomous robots and humans will work together in harmony on the plant floor," Menassa said. "R2 and other dexterous robots like it will promote worker safety, and better manufacturing and vehicle safety."
LAU engineering students have the opportunity to learn about robotics in a number of courses on kinematics, control and imaging, according to Dr. George E. Nasr, dean of LAU's School of Engineering and professor of electrical engineering.

"Our academic programs emphasize professional skills in addition to technical rigor," says Nasr. "We emphasize the development of practical competence, critical thinking, passion for independent learning as well as capacity for teamwork, innovation and leadership."
"The lecture was one of a number of events and lectures covering contemporary engineering issues that are regularly organized by the school to enrich the learning experience of its students," Nasr adds.
Menassa holds a bachelor's degree in mechanical engineering from Clarkson University in New York. He went on to Rensselaer Polytechnic Institute in New York, where he received his M.S. and Ph.D. degrees in mechanical engineering. He has held various positions at GM since joining the corporation in 1989.