Rolling out the red carpet
LAU architecture students attend a hotel design course in New York.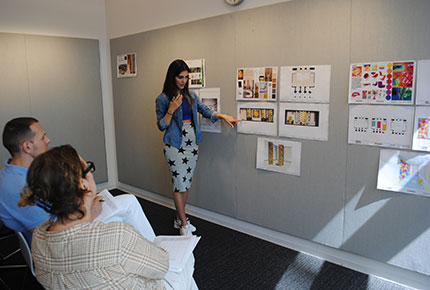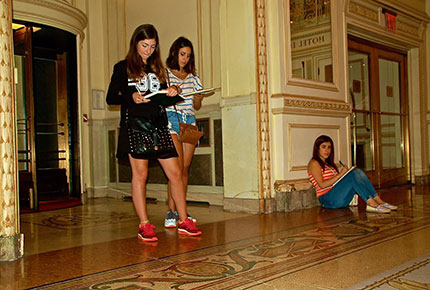 There are more than 250 hotels in New York City, accounting for 69,587 rooms and 32,000 employees. That's a lot of choice for the estimated 50 million visitors who tread through the city each year. Behind every lobby, restaurant and room there is an architect striving to attract visitors, appease clients or lend his or her personal touch to the space.
After visiting 15 different New York City hotels, eight students from LAU's School of Architecture and Design took a stab at designing their own, as part of a ten-day course called "Contemporary Topics in Design: Hospitality." The project took place in partnership with the New York School of Interior Design (NYSID).
Pierre Hage Boutros, associate chair of the LAU Department of Architecture and Interior Design (DAID) served as the accompanying faculty member on the course, which was taught by NYSID faculty member Stefan Steil. The latter was very much delighted by the quality of the LAU students: "I found them to be very thorough, and I was highly impressed with what they were able to develop in just a few short days," he said.
The students were equally happy with the program. "We don't have a hospitality-focused course at LAU, so that's one of the reasons I wanted to attend," said incoming fourth-year DAID student Layal Hashwa. "I learned so much about hotel architecture: the lobby, the circulation and how to attract visitors."
The students' itinerary included visits to storied New York establishments like the Plaza and the Waldorf-Astoria, opulent hotels that have catered to kings, presidents, ambassadors and celebrities. It also included chains like the Hilton Garden Inn, luxury hotels like the Mandarin Oriental and Gansevoort, trendy spots like the Nomad, Ace and Standard as well as boutique favorites like Hotel Giraffe. "The Plaza was my favorite because we all saw the movie 'Home Alone 2' when we were kids, and I was really excited to see the hotel in real life," enthused student Zahraa Jomaa.
The course culminated on July 16, when students had to present their concepts for a hotel lobby to the instructors and NYSID Associate Dean Barbara Lowenthal. Drawing inspiration from pop art, nature, calligraphy, the 1950s and last but not least Gustav Klimt's The Kiss, the designs incorporated color, furniture, building materials and architectural layout.
"The students were thoughtful and articulate, and their presentations demonstrated a high degree of creativity and digital rendering skills," said Lowenthal. "Many of them were bold and demonstrated a willingness to take design risks," she added.
According to Boutros, the partnership between the two institutions was made possible by NYSID Dean Ellen Fisher and SArD Dean Elie Haddad, and was part of an effort to gain broader exposure in the field of design for LAU students. "We are holding discussions with the NYSID to define a framework for a possible future collaboration," he shared.