Run for women's education and empowerment
Beirut's inaugural women's race partners with LAU.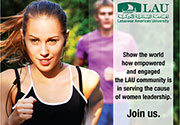 LAU participants will allocate LL5,000 of their entry fees to a scholarship for gender studies.
Click on photo for larger version.
LAU has a long tradition of participating in the annual Beirut marathon, but this year, that relationship has extended to the first-ever Beirut Women's Challenge, a 10-kilometer race through the heart of the city on Sunday, May 26.
"Since LAU is an institution that has made its mark as a pioneer in women's causes, it's only natural that we would be involved in this event," says Joseph Kanaan, project management coordinator at the LAU Outreach and Civic Engagement unit (OCE).
The university is encouraging school participation by waiving entry fees — worth LL22,000 — for the first 100 registrants. Joining hands with OCE, the Marketing and Communications Office designed striking posters and banners promoting the event on campus and throughout the city, while the Alumni Office is summoning its vast network to run with LAU. On race day, a horde of LAU volunteers, males included, will hand out water to runners and cheer them on.
"We have all worked hard and it wasn't in vain," says Assistant Vice President for Development Nassib Nasr before adding, "We are really proud that the 'friends of LAU' have shown so much enthusiasm for such a noble cause."
Keeping in line with LAU's ethos of giving back, the Beirut Marathon Association will allocate LL5,000 from each of the university participants' entry fees toward a special scholarship for gender studies.
"This idea came to me on the spur of the moment, and when we met with the organizers, they applauded it," says Anita Nassar, assistant director at the Institute for Women's Studies in the Arab World, who is thrilled with the concept of a women's race. "It synthesizes the idea that such projects can and should be undertaken for the empowerment of women."
IWSAW has pitched in by reaching out to the legion of non-governmental organizations they work with, encouraging them to run, or participate in some capacity.
"The way we see it, education plays a very big role in empowering women," says Lilliane Alame, NGO coordinator and assistant race director at the Beirut Marathon Association. "LAU believes in education for all, a basic human right, and we believe in sports for all, so it's a winning partnership."
On another level, she adds, "Volunteerism is a critical part of life education. Giving students the opportunity to be part of this national day teaches them to serve the community."
The slogan of the Women's Challenge is "3anjad Awiyeh", or "she is really strong," and organizers plan to make it an annual event.
"It's very important for women to participate in the race because it's symbolic of women in leadership, of gender equality and of female emancipation," says Elie Samia, executive director of OCE. "We encourage all LAU females to take part because LAU is a pioneer in women's education, it's home to the preeminent Women's institute in the region, and it is dedicated to gender equality."