Saloua Raouda Choucair: a 70-year career retrospective
The Beirut Exhibition Center showcases the work of 95-year-old LAU alumna and major figure in the international art world.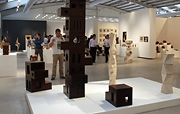 Almost 400 unique artworks are showing at the "Saloua Raouda Choucair: The Retrospective" exhibition at the Beirut Exhibition Center.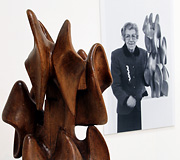 A portrait of the artist posing next to her famous "Module" sculpture made of wood in the early 1980s.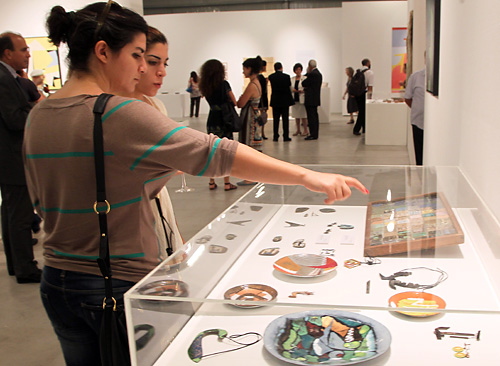 Visitors admiring different styles of jewelry made by the artist.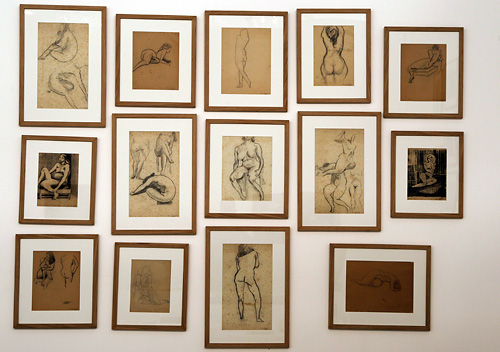 The artist used graphite and charcoal on paper to draw these 14 nudes.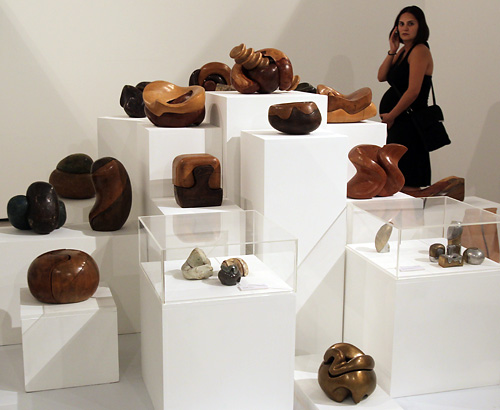 Choucair sculpted these perfectly imbricated pieces from from the "Dual" series in her studio during the Lebanese Civil War.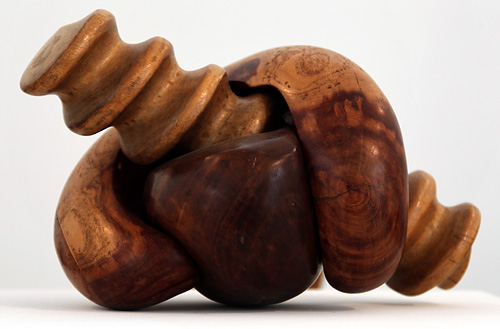 Detail of a sculpture made of wood from the "Dual" series.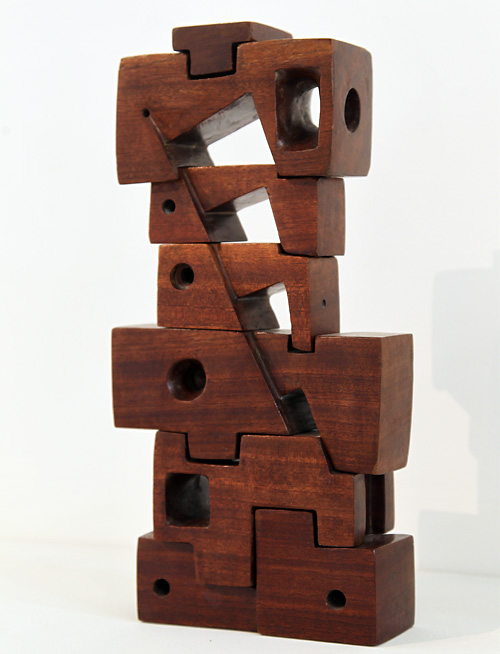 One of Choucair's sculptures from the series "Poems" that she worked on from 1963 to 1972.
Click on any photo above to view all seven images.
The Beirut Exhibition Center is currently hosting a retrospective of the long career of Saloua Raouda Choucair, the celebrated 95-year-old painter, sculptor and LAU alumna generally credited with introducing modern abstractionism to Middle Eastern art.
"Saloua Raouda Choucair: the Retrospective," which features some 380 of the artist's works, was curated by her daughter Hala Choucair Gharzeddine, in collaboration with the Agial Art Gallery. The show opened in late September and continues until November 13.
From early paintings to more recent sculptures, the exhibition presents work from every phase of Choucair's career. It includes sketches, photographs, rugs and other daily-use art pieces like jewelry and furniture.
The show is divided chronologically, with each section revealing a new wrinkle in the artist's evolving story, a new dimension of her vision. Throughout, Choucair's modernity and avant-gardism make decades-old pieces look timely, even timeless.
Work from every phase of her career shows an enduring fascination with science, philosophy, Islamic art and poetry.
"My mother was very creative, and highly optimistic about the modernity of Arab culture," says Gharzeddine. "She believed in progress and was very curious about science. She wanted her work to be a synthesis of all these elements," she says.
According to Gharzeddine, Choucair defines her art as pure abstraction but an abstraction inspired by Islamic art. "She was moved less by the visual aesthetics of Islamic art than by its desire to express the infinite and the indescribable, by its circles and the lines and by its use of mathematics," she says.
Choucair has used a large range of materials for her sculptures over the years, from wood to plexiglas, brass, ceramics and nylon threads. These she fashions rigorously into polished circles, spirals, waves and other geometrical shapes, sometimes fitted over each other in "duals" or "poems," visual traces of her meditation on and fusion of science and Arabic poetry.
Born in Beirut in 1916, Choucair graduated from American Junior College for Women (as LAU was then known) in 1936 with a degree in biology. She began her painting career in the studios of prominent Lebanese artist Mustafa Farroukh while still a student.
In an autobiographic article written in the early 90s, Choucair describes her college years with enthusiasm, recalling the publication of her caricatures — of classmates, teachers, and other campus figures — in the annual Trireme publication and on the college's posters, which she designed.
"She loved her years at AJCW," says her daughter. "She found an audience there who appreciated her style, who would laugh at her depictions."
She went on to graduate school at the American University of Beirut, graduating with degrees in philosophy and Arabic sciences.
Her career led her to Paris, where she graduated from the Ecole des Beaux Arts and worked with some of the most prominent artists of the time.
Choucair's last major exhibition was in 1974, when the Lebanese Ministry of Tourism displayed some 100 pieces in its glass exhibition hall in the Hamra area. The event marked the first time that gallery — the ministry's most prestigious — had showcased the work of a Lebanese artist.
"In her early career she was badly treated and at best ignored. She was bitter," Gharzeddine recalls, adding that "later she was rewarded in many ways and she felt much better. She now lives blissfully."
Choucair has received several distinctions from the Ministry of National Education, and was awarded the highest national honor, the Cedar Decoration (Knight and Officer Grades).

In 1975 LAU (at that time BCW) honored Choucair by acquiring and displaying one of her sculptures in the university gardens.
"Saloua Raouda Choucair: The Retrospective" continues through November 13 at the Beirut Exhibition Center. For more information visit:
www.beirutexhibitioncenter.com.