Saloua Raouda Choucair, pioneer of abstract art in the Middle East, dies at 100
Internationally renowned painter and sculptor, the LAU alumna leaves behind a treasure trove of eclectic works.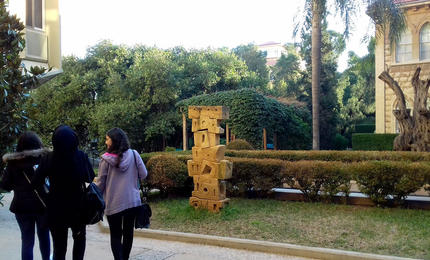 Saloua Raouda Choucair, avant-guarde artist, died on January 27. She was 100 years old.
Increasingly acclaimed painter and sculptor, Choucair is considered to have introduced modern and abstract art to the Middle East.
"For generations to come, LAU alumni will take pride in remembering Saloua Raouda Choucair as one of their own," says Abdallah El Khal, Assistant Vice President for Alumni Relations at LAU.
Choucair's interests and passions were as diverse as her art. Her scientific curiosity shows in almost every piece of work, where wood, water, nylon or brass among others, become the means to express her philosophical wonderings. An art that shows exactly what she was about, a fusion of science, Islamic art and Arabic poetry, reflected in her academic path.
In 1938, with a degree in biology from LAU (then the American Junior College of Women) under her belt, Choucair went on to pursue graduate studies in philosophy and Arabic sciences at the American University of Beirut. She began her artist career in the studios of prominent Lebanese painter Mustafa Farroukh while still a student, eventually enrolling at the Ecole des Beaux Arts in Paris, where she worked with some of the most prominent artists of the time. The artist then moved to the United States where she received additional training at the Pratt Institute in New York City and the Cranbrook Academy of Art in Michigan.
Her work was increasingly recognized in her late years. In Lebanon, a retrospective of her career was hosted at the Beirut Exhibition Center in 2011. Before that, her last major exhibition in the country dated back to 1974. More recently, in June of last year, the Sursock Museum celebrated the artist's 100th birthday.
"In her early career she [Choucair] was… at best ignored," her daughter Hala Choucair Gharzeddine had declared. But the artist received numerous distinctions and her work has been showcased in museums around the world including at Tate Modern in 2013.
Showing an indefatigable support to its alumna, LAU (then BCW) acquired in 1975 a sculpture of hers that now adorns one of the Beirut campus gardens.
In an autobiographic article written in the early 90s, Choucair describes her college years with enthusiasm, recalling the publication of her caricatures — of classmates, teachers, and other campus figures — in the annual Trireme publication and on the college's posters, which she designed.
"She loved her years at AJCW," says her daughter. "She found an audience there who has always appreciated her style."
Saloua Raouda Choucair was born on June 24, 1916 and died on January 27, 2017.