Saluting LAU's first medical doctors
LAU celebrates its first class of medical doctors in the 2013 Gilbert and Rose-Marie Chagoury School of Medicine's hooding ceremony.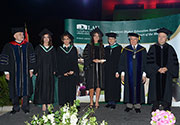 Students received the oath surrounded by LAU officials and SOM faculty.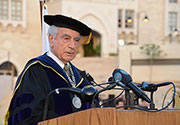 In his address, Dr. Jabbra reminded the students that their mission should be fundamentally based on serving others.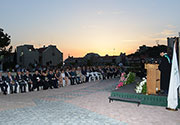 Dean Comair addressing the crowd. "You are in many respects a class of pioneers," he told the graduates.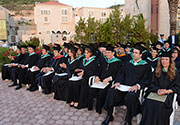 The School of Medicine's faculty members with Dean Comair.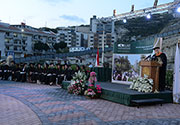 In his speech, Dr. Dimitri Azar focused on care, teamwork and lifelong learning.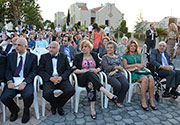 The event was attended by founding dean Dr. Kamal Badr, and former dean Dr. Lynn Eckhert.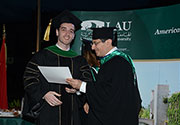 Jad al Danaf receives his Leadership Award from Dean Comair.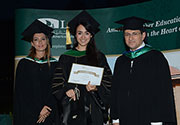 Rim Halaby, who delivered the valedictorian speech, receives the Academic Excellence Award, and is here surrounded by Dr. Maya Khairallah and Dean Comair.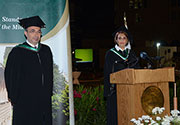 Dr. Tony Zreik and Dr. Zeinat Hijazi proclaim the oath to be recited by the graduates.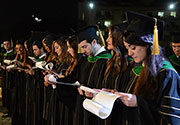 The first class of LAU medical doctors taking their oath.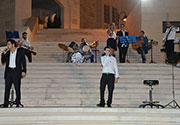 After the ceremony, and as a tribute to their colleagues and friends, students projected a film produced and directed by Serge Korjian, Med IV, as Med I and Med II student band serenaded the graduates and their guests.
Click on any photo to view all twelve pictures.
The emotional evening of June 7, 2013, will forever be engraved in the memory of LAU Byblos campus, for it witnessed the inaugural Gilbert and Rose-Marie Chagoury School of Medicine's hooding ceremony.
Amidst government officials, medical school faculty and staff, parents, family and friends, master of ceremonies Dr. Maya Khairallah introduced the graduates with tangible pride — a feeling shared by most of those attending.
"This is a very special, precious and moving moment for our medical school, for its team, its faculty, for our graduating students and their families, and above all for LAU," said President Joseph G. Jabbra as he recalled the groundbreaking of the School of Medicine in July 2008 following a generous donation by Ambassador Gilbert and Rose-Marie Chagoury. Since then, the program has propelled the university to new levels of academic excellence.
Preparation for the medical school included collaborating with Partners Harvard Medical International to create a curriculum that was unique in the region, and one that bore a distinct mission: "To educate and train a new physician, one superbly trained in the art and science of medicine and who believes deeply that a physician is, above all, a merciful healer."
Thanking the Board of Trustees for its continuous support, Jabbra praised the indefatigable efforts of founding dean Dr. Kamal Badr in recruiting top-notch faculty and in introducing outstanding and innovative patient-centered care. He also thanked Dr. Lynn Eckhert from Harvard Medical International, who took office as interim dean in October 2010 for two years before Dr. Youssef Comair, the current dean, assumed the position.
"There was a great confluence of factors, of people who came together and had faith in what this institution was trying to do. It is the story of a collective commitment and passion that guided us to where we are today," Jabbra said. He reminded the audience of the triumphant acquisition of majority shareholder position in the University Medical Center-Rizk Hospital in 2009, a milestone for the medical school.
"Shortly after becoming a dean, I realized how exceptional you are," Comair told the graduates. "I have been struck by your commitment to serve your patients and community, and by the numerous extracurricular activities you have initiated. Your enthusiasm, desire to make a difference, and drive are an example to all of us. I am honored to be part of your hooding ceremony today," he added.
Qualifying LAU SOM as a pace setter in medical education in Lebanon and the region, he said: "Our work is far from being complete. Major challenges await us: rising to preeminence requires that we become pioneers and creators of new knowledge."
It is this same sense of ambition that animated guest speaker Dr. Dimitri Azar, internationally renowned ophthalmologist and dean of the College of Medicine at the University of Illinois, Chicago, the largest medical school in the U.S. "You sit here today because of the values that you and LAU represent: striving for excellence, seeking lifelong learning and finding appropriate cures through perseverance and integrity," he said.
According to Azar, "It is only through caring, compassion, and most importantly teamwork, (vs. self-indulgence) that one attains special knowledge, self-actualization and future success."
Students received the messages of wisdom with humility. "LAU SOM has equipped us with more than the mere knowledge of diagnosing diseases and curing them," said graduating student Rim Halaby who delivered the valedictorian speech.
"What we have been empowered with is the ability to listen to each other when none of our ideas overlap, to think in a new perspective when our doctrines are challenged with new concepts, to control our anger and fear in a professional setting, to fail and then define our weaknesses to rise stronger, to compete with our inner-self and not with each other, and most importantly, to be humane."
Before the hooding ceremony started, Halaby was awarded the Academic Excellence Award, as her colleague Jad al Danaf received the Leadership Award.
"We shall never be afraid of challenges," Halaby exclaimed on behalf of her classmates, "We shall never have limits to our ambitions. We shall always remember that medicine is a noble mission. We shall never forget that we are the inaugural class of LAU School of Medicine. We shall never forget: We are LAU."