Saving lives, serving the community
The School of Pharmacy introduces American Heart Association-approved Basic Life Support (BLS) certification into its Pharm.D. curriculum.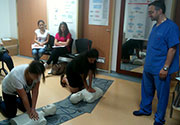 Incorporating this certification into the curriculum highlights SOP's commitment to producing graduates dedicated to serving the community.
Click on photo above for larger version.
Basic Life Support (BLS) certification is the latest addition to LAU's Doctor of Pharmacy (Pharm.D.) curriculum. While BLS training has previously been part of the First Aid elective, this year the School of Pharmacy (SOP) has made the decision to incorporate BLS instruction and certification by the American Heart Association (AHA).
"The AHA is the world's leading association in cardiology," says Dr. Pierre Zalloua, dean of the SOP. "An AHA-issued certification will foster greater professional opportunities for Pharm.D. graduates as it guarantees students receive BLS training that is in accordance with the highest international standards and guidelines."

BLS is a level of medical care that is administered typically in emergency situations where a patient cannot receive full medical care. "BLS certification provides Pharm.D. students with the basic and necessary techniques to recognize a life-threatening emergency, and rescue victims by performing cardiopulmonary resuscitation and other life support tasks" explains Dr. Lamis Karaoui, director of experiential education who is in charge of organizing the training sessions.
The Pharm.D. program includes four rotations at The Methodist Hospital in Houston, Texas while the remaining five rotations take place in various hospitals in Lebanon. "BLS training is a common requirement at most U.S. colleges and schools of pharmacy," explains Dr. Imad Btaiche, SOP's associate dean for academic affairs.
Such training has been recommended for all health care professionals in the U.S. since 1966.
"This certification is significant because it will open doors for our graduates internationally," Btaiche continues. "Students acquiring this certification will have the option to pursue opportunities such as becoming immunization-certified pharmacists in the U.S. and will be able to enroll in more advanced training such as Advanced Cardiac Life Support (ACLS) training."
"Certainly, what is unique about this instruction is that students will receive training by skilled AHA-certified instructors at Bellevue Institutional Training Center," echoes Dr. Aline Saad, clinical assistant professor and chairperson of the Department of Pharmacy Practice.
Incorporating this certification into the curriculum highlights SOP's commitment to producing graduates dedicated to serving the community.
"Pharmacists are an integral part of the health care team and this means we need to continuously upgrade our skills," says Pharm.D. student Patrick Tannous who completed the training this year.
"Whether we are on duty or not, our skills cannot be limited to merely managing patients' medications and treatment plans. If someone is choking or having cardiac arrest we need to be able to act immediately."
"It is the pharmacist with upgraded skills who can meet the challenges of today's society," Tannous adds.
The Pharm.D. program was accredited by the Accreditation Council for Pharmacy Education (ACPE) in 2002 and accreditation was continued this year. At present, it is the only ACPE-approved program outside the United States.