Scholarly migration
Major IMS conference on diaspora and homeland draws academics and researchers from around the world.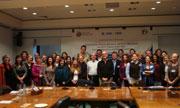 Organizers, presenters and attendees of the international IMS conference at LAU Beirut.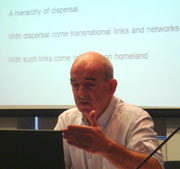 Keynote speaker Dr. Nicholas van Hear, of the University of Oxford, discusses conflict and displacement.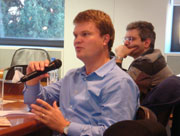 Keynote speaker Dr. Alan Gamlen, of Oxford's International Migration Institute.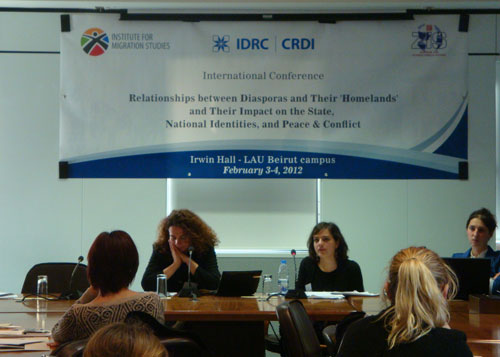 A panel at the IMS conference.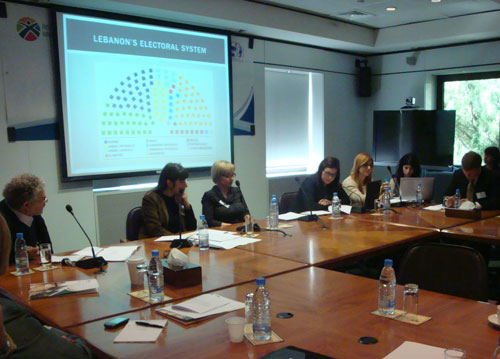 A panel on Lebanese electoral politics.
Click on any photo above to view all five images.
On February 2-4, LAU's Institute for Migration Studies (IMS) hosted an international conference entitled "Relationships between Diasporas and their 'Homelands' and Their Impact on the State, National Identities, and Peace & Conflict."
Twenty-four academic papers, two keynote lectures and a roundtable discussion explored the impact of diasporas on international and domestic politics, economics, and society.
An International Development Research Centre (IDRC) grant, awarded to LAU scholars Dr. Jennifer Skulte-Ouaiss and Dr. Paul Tabar, made the groundbreaking colloquium possible.
"Together with hospitality and good organization, we have seen an incredible breadth and depth of contributions," said keynote speaker Dr. Alan Gamlen, of Oxford University's International Migration Institute.
The interdisciplinary event united political scientists, geographers, economists, sociologists, psychologists, and anthropologists. Case studies analyzed and illuminated the emigrant experience of Vietnamese, Palestinian, Filipino, East Timorese, Indian, Turkish, and Kurdish communities, to name a few.
A striking variety of empirical approaches further diversified the discussion. Projects based on personal interviews provided rich ethnographies, while large data sets furnished a fertile basis for comparative work on diasporic mobilization, dissipation, and transnational identification.
"It's really fantastic to be in a room with people looking at migration, diaspora and transnationalism from so many different theoretical and methodological perspectives," says social anthropologist Dr. Annika Rabo, who presented a paper on Syrian, Lebanese and Turkish Orthodox communities in Sweden.
Retaining a regional focus, conference organizers devoted a panel to the Lebanese diaspora. Cynthia Salloum presented a comparative study of Lebanese expatriates' political incorporation into host societies in the United States, France and Mexico.
"It was really exciting to see four people presenting on the topic," said Salloum. "There is not a lot of work on the Lebanese diaspora in particular, even though it is bigger than the homeland population and has a lot at stake."
Salloum lauded the IMS's efforts. "It is important for me, as a Lebanese, to see that there is a push to enhance political and human sciences in Lebanon," she said.
At LAU, Skulte-Ouaiss and Tabar are scrutinizing the Lebanese diaspora's impact on public affairs inside Lebanon, with particular respect to peace building and conflict perpetuation.
The two have conducted 330 in-depth interviews with active Lebanese diaspora members in Australia, Canada, and the United States, as well as local actors in Lebanon. Preliminary data suggests overseas replications of local political structures and thorough transnational integration.
"The conference gave us many more tools and ways to interpret the huge amount of data we are collecting, so that we can analyze and publish it," says Skulte-Ouaiss, an assistant professor of political science and international affairs. "The papers gave us a lot of examples, so we can hopefully construct further theories."
Tabar, associate professor of sociology and anthropology at LAU Beirut and the director of IMS, indicated that discussions helped to clarify his research approach. "The concept of diaspora as a process, rather than a reified entity, emerged as much more important in our understanding of what we are doing," he says.
Conference papers will be published in a forthcoming book, which is bound to stimulate future collaborative investigations into diaspora studies. "I was very excited that we laid the groundwork for future thought," says Skulte-Ouaiss.