School of Pharmacy expands its co-curricular activities
Undergraduate students gain basic life support skills and international certification from the American Heart Association.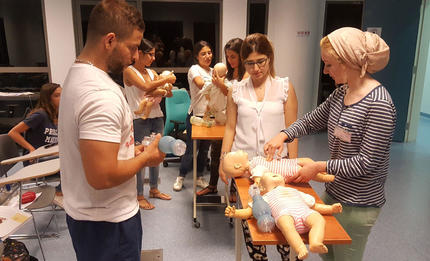 This semester, LAU's School of Pharmacy has introduced the American Heart Association's (AHA) Basic Life Support (BLS) training and certification to its third-year students.
"As future healthcare providers, all pharmacy students must be able to intervene in life-threatening emergencies, give high quality chest compressions and help patients who have a cardiac problem," says Dean of the School of Pharmacy Imad Btaiche, explaining why the certification is changing to be supported by the school and made available to all pharmacy students at LAU.
"We are introducing a number of co-curricular activities, each tied to different curriculum courses, that will enhance the capabilities of our students," adds Btaiche.
The full-day training taught the students how to rescue a patient using cardiopulmonary resuscitation (CPR) and First Aid.
Graduating student Michel Khairallah appreciated the opportunity that was previously only made possible to pharmacy students in their fourth year. "This was a valuable experience and I'm grateful for the knowledge I've gained today," he said. "We have a social and civic responsibility to be able to care for those in poor health and as pharmacists we're more likely to encounter them," said Khairallah.
Organizer of the event, Clinical Associate Professor and Director of Experiential Education Lamis Karaoui agreed. "As they become practitioners, and in any setting, our graduates face situations where they have to provide BLS. In Lebanon, the community pharmacist is often a patient's primary access to healthcare, so we prepare him/her to be ready to save a life," she said.
The workshop is based on training material developed by the AHA and is typically conducted by AHA-certified instructors of the LAU schools of Medicine and Nursing. This year's workshop was conducted by AHA-certified instructors and faculty members at the Alice Ramez Chagoury School of Nursing, Maha Habre and Mira Abi Saad, and held at the AHA-certified Clinical Simulation Center at the Byblos campus.
"LAU is ahead of the curve here. Our AHA-affiliated simulation center is an international training center pioneering in the BLS discipline to pharmacy students," enthuses Nelly Chammas, senior coordinator, LAU clinical simulation center.
Clinical instructor in nursing Habre agrees: "The international certificate our students gain today is valid worldwide, preparing them for various opportunities abroad."
Whether they aim to travel or remain in Lebanon, the School of Pharmacy wants to ensure its graduates are prepared for their role as an integral part of the healthcare system.
"In addition to offering certification in various healthcare skills, we are regularly introducing other activities to enhance leadership, social and civil responsibility, intercultural understanding, creativity, volunteerism and advocacy among our students," enthuses Btaiche.
Such activities will complement the core curriculum and take various forms, conducted both in and outside the classrooms and campus. "This is but one way in which we are advancing our curriculum and enhancing the civic responsibility of our students," he concluded.