Screaming out in song
Alumna Quincy Jones artist Xriss Jor lends her voice to raise awareness about the garbage crisis in Lebanon.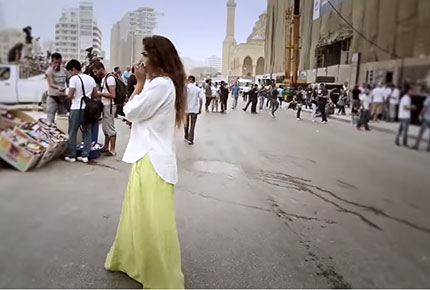 Months after protests erupted across the country in response to the government's failure to treat or dispose of the country's garbage, the authorities have announced sketchy details of a plan to export the bags of waste which have continued to pile up under bridges and along riverbanks.
While many point the finger squarely at the corrupt ruling elite, LAU graduate and Dubai Music Week winner Xriss Jor believes the crisis is a reflection of something endemic in Lebanese society. "I wasn't directing it at anyone in particular. I wasn't even directing it at the politicians," she says of her recent rendition of Michael Jackson's 'They Don't Care About Us.'
The song was produced by music legend Quincy Jones and came at a time when Jor was feeling particularly frustrated. "There are problems with the way the country functions, not just the garbage," says the communication arts graduate, whose video for the song was partly shot on Beirut's Martyrs' Square during the demonstrations of summer 2015.
"I just wanted to scream it out to everyone around me," adds Jor, whose powerful vocals were well suited to the strong political statements of the song. The lyrics, mostly unchanged, were peppered with the words "garbage", "landfill" and "streets" to reflect Lebanon, its woes and the general outcry.
"Generally, people aren't able to live like they want to," she explains, referring to the line "If Lebanon were living, we wouldn't let this be," which she belts out at the end of one chorus. "People nag because they don't want to pay taxes, but taxes are what make a country look nice and help people retire. Health insurance is too expensive for most people. The traffic in Lebanon is disgusting because people don't know how to behave in their society," says Jor, reeling off a list of grievances.
Months after the 'You Stink' movement began, encouraging thousands of citizens to protest en masse for the first time in many years, a solution to the garbage problem and the various ills facing people country-wide is still out of reach. "If we knew how to live then we'd know how to vote for the right people," remarks Jor.
Despite her complaints and the theme and success of her debut single, the singer is reluctant to take on the label of activist. "I don't want to be seen as an activist. I wrote this one because people were fed up. It's not a random song that came up."
Jor admires the likes of Ewan McGregor and Angelina Jolie, who use their fame to the advantage of others. "I don't think celebrities have a responsibility to do good, but I do admire Jolie's humanitarian work and idolize her motivation," says Jor, who herself likes to be idolized and enjoys the fame and attention her career afford her. "Being controversial makes people hate you. That's the last thing I'd want to do. But I'll definitely do something. I'm sure I'll find something."