Seminars help family businesses face relational and economic problems
LAU institute provides guidance to family enterprise owners and managers.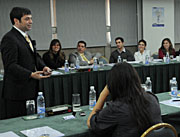 Dr. Joseph Astrachan discussing sibling and cousin relationships in family businesses.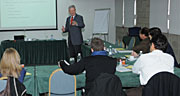 Dr. Hermut Kormann explaining growth strategies that family businesses can adopt in recession.


Dr. Josiane Fahed-Sreih, IFEB director, welcomes Astrachan.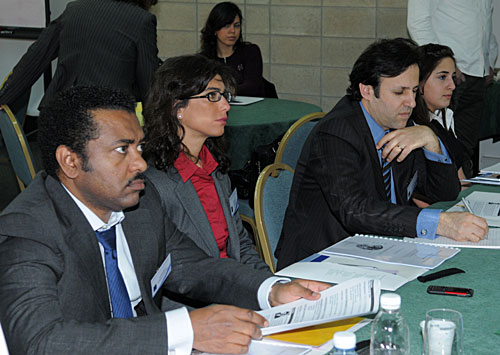 Participants listening to Astrachan's presentation.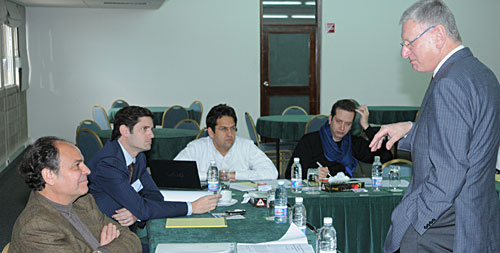 Kormann answers the questions of participants.

Click on any photo above to view all five images
The family business owners and managers who participated in two LAU seminars last month learned they could adapt to market changes and financial crises, and even thrive, by keeping their families united and building proper long-term strategies.

Every year, LAU's Institute of Family and Entrepreneurial Business organizes activities to train family businesses that constitute 90 percent of the Lebanese business landscape, according to Dr. Josiane Fahed-Sreih, IFEB director.

"We are building a family business network for owners and their family members to exchange information with other families," said Fahed-Sreih. "We select topics relevant to people who have family businesses and we bring speakers with a high level of expertise from all over the world," she added.

The institute's latest two seminars on the Byblos campus were on sibling and cousin relations in a transition process, and short-term recession management and long-term growth strategy building.

Family businesses can grow even in times of financial crises if they develop long-term strategies and sustainability mechanisms instead of depending on short-term profits, said the second seminar's leader, Dr. Hermut Kormann, visiting professor at the University of Leipzig, Germany.

The current economic crisis is worse than any other he has experienced, said Kormann, who served as the CFO (1989–2000) and CEO (2000–2008) of Voith AG—"one of Europe's largest family enterprises," according to its website.

But the situation is different in the Middle East, according to him.

"I found out that here the regional aspect is more important than the international aspect," Kormann said. "If there is political tension or war in the region, businesses would suffer more than in the context of international crises," he added.

Family unity is essential in good and bad times, said Dr. Joseph Astrachan, who led the first seminar. "If family members get along together, they can overcome the financial crisis [that the world is going through]. If they don't, things go bad for them, even when times are good," he added.

Frequency, average duration and depth of communication are the three main factors that affect family relations, said Astrachan.

According to the award-winning family business expert and professor, the difference between family and other enterprises is emotions, which can have beneficial or destructive consequences.

Astrachan shared with participants his extensive experience as Wachovia eminent scholar chair of Family Business; executive director of the Cox Family Enterprise Center at Kennesaw State University, Georgia; and former editor and current advisory board member of The Family Business Review, a scholarly publication of the Family Firm Institute.

Hiba Bawashee, who attended Astrachan's workshop, said she learned new skills about how to better handle relations with other family members involved in her business.

In family businesses, "children need to continue what their parents started and this is a scary challenge," Bawashee said. "We decided, all of us, to come here in order to face that and get some ideas to make the long road easier for us," she added.