Senior graphic design students showcase their talent
With Discover, the Graphic Design department chooses to focus on its graduates' work progress.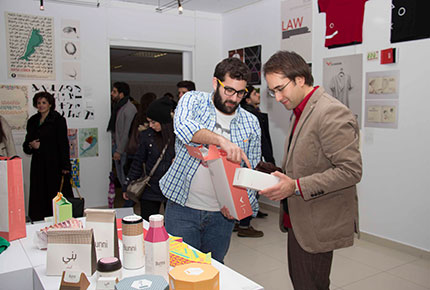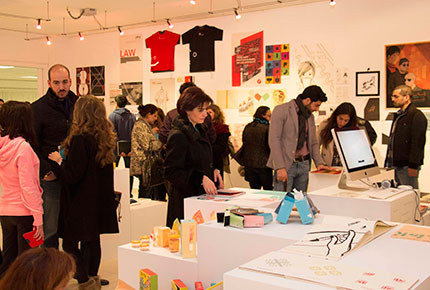 "It makes me feel proud to see my work exhibited like this, to see the progress I've made since I first entered university," said senior student of Graphic Design Marwan Mneimneh at Discover, the first-of-its-kind senior student exhibition.
The annual student exhibition had, until this year, showcased the work of students of all years by design discipline. "We have decided now to showcase the work by student, because we want to celebrate the graduation of our students and to promote them and support them in seeking jobs," explains chair of the Department of Design Yasmine Taan, adding that potential employers were among the invitees to the launch of the exhibition at each campus.
Mneimneh is hoping to get a job in animation. His senior project, displayed among various pieces he designed during his three and a half years at LAU, was an interactive children's novel that he hopes will encourage youngsters to enjoy reading. "The aim of this project was to take an outdated children's novel and add the immersiveness and interactivity present in games and tablets," the student explains in the synopsis that accompanied his work on the walls of the Sheikh Zayed exhibition hall.
The exhibition space itself was designed by artist and faculty member Niloufar Afnan. "Each student had their own space on the walls, showcasing work from through their time here, while the central area, the island, held mostly senior year projects, including books and other products."
The process of selection, says senior student Haya Sleiman, was very difficult. "I'm definitely glad we didn't showcase all our pieces. I'm so proud of all that I've done. I've made mistakes and tried again and our teachers were always pushing us. It was a great experience."
Sleiman's senior project was a comic book series that narrates the experiences of an Arab Muslim teenager since 2001 and personifies a resentment of Islamophobic perceptions. "I very much enjoy illustration, though it's a lot of work and quite stressful. I don't yet know what kind of jobs I'll apply for though. There's so much you can do with graphic design."
While Sleiman studied within the emphasis of print design, Mneimneh studied within the digital design emphasis. At the event, screens and computers allowed for the presentation of digital design senior projects that included films and websites. "It's a wonderful and diverse exhibition, and the feedback has been very positive, from proud parents and industry professionals," said Taan, the department chair, visibly pleased with the achievement of this year's graduating class.
Echoing the sentiment, Sleiman expressed pride and relief. "It's a load off, having finally completed our degree, and it was so nice to see it all again in this exhibition."
The work of the graduating students was showcased in an exhibition catalogue. To request a copy, send an e-mail to graphicdesign.beirut@lau.edu.lb