Senior students get ready for life beyond the gates
In a race to offer students jobs and internship opportunities, over 100 companies take over LAU campuses for the annual career fairs.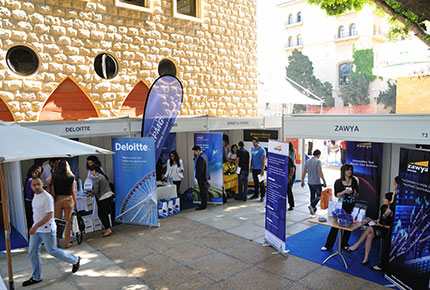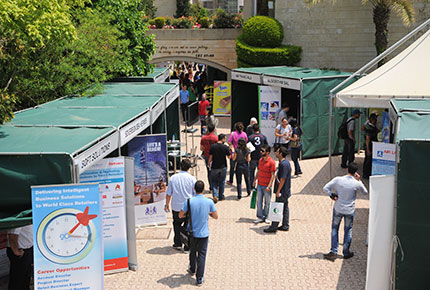 Alumni around the world know that an LAU education opens doors for great career opportunities. Via a wide range of events organized throughout the academic year, the university, with its dedicated Career Guidance Office, goes out of its way to ensure students have unique access to a variety of employers. The high point of which are the Career Fairs scheduled this year for April 23 at LAU Byblos and April 30 at the Beirut campus.
"LAU is an incubator of talent that can offer great opportunities to fulfill the recruitment requirements of Lebanese and international employers," says Dr. Mars Semaan, dean of students on the Byblos campus.
"We have the honor to host the most prominent multinational organizations from different fields, which not only proves that our students have outstanding knowledge, talent and skills but also that our university has an excellent reputation in the local, regional and international markets," wholeheartedly agrees Dr. Raed Mohsen, dean of students on the Beirut campus.
Approximately 54 preeminent national and international employers will be on hand at the Byblos event and 66 in Beirut to give hundreds of job seekers the chance to meet recruiters, distribute their CVs and ask questions of industry insiders. Employers at this year's fair will include MEA, Byblos Bank, AMIDEAST, Debbas, SABIS, Google, Novartis Pharma services, and many more.
For recent graduate Cynthia Raad, an alumna of Arts and Sciences in Beirut, the career fair helped in her transition to the workforce. "The university guided me in my job quest—I was able to network with many interesting people and I ultimately obtained an internship with L'Oreal, where I am now working," she says. "I definitely recommend any student to make the most of this opportunity."
LAU Byblos graduate Zana Maria Cawog, echoes this advice, "I was able to share my resume with tons of employers and scored interviews and job offers directly from my experience at the fair," she says. "Even today, three years after graduating, the helpful career guidance officers at LAU still send me job opportunities that are available locally, as well as in the GCC and MENA region."
Indeed, career services don't stop at LAU's gates, as the Alumni Relations Office joins hands with the Career Guidance Office with a series of activities that culminate in the yearly Annual Alumni Business Networking Cocktail Reception. The event is traditionally held right after the Beirut career fair and targets alumni who graduated in the past 10 years giving them the invaluable opportunity to meet and mingle with human resources executives and prominent business officials of companies who took part in the fair.
"If you are a senior student or fresh graduate these events are not to be missed," Cawog enthuses.

Our tips for career fair success:
• BE PREPARED, have your CV ready and critiqued by someone you trust.
• Collect business cards and jot down a fact on the back to jog your memory when you write a follow-up letter.
• Have pertinent questions ready by doing your research beforehand.
• Remember: first impressions count! Make sure to present yourself in a professional light.
Don't miss your chance to get ahead of the competition! For more information on the Career Fairs: http://students.lau.edu.lb/career-guidance/lau-career-fairs.php